It's that time of year to enjoy time with family, friends and good, real food.  Here are some ideas for you if you haven't already planned out your menu.
Thanksgiving Recipes:
Ground Turkey and Apple Stuffed Winter Squash
Healthy Traditional Green Bean Casserole (gluten, dairy and grain-free)
Desserts:
Pumpkin Pie – gluten, grain, dairy, sugar, nut and soy-free
Walnut Torte with Lemon Whipped Cream Icing
More Allergen-Friendly Thanksgiving Recipes:
I also recently made a compilation of all of the Thanksgiving and Holiday recipes that I have on the membership site.  Unfortunately, I don't have blog posts for these recipes yet.
Breakfast:
Festive Fruit with Almond Cream
Paleo Breakfast Bake
Vegetarian Paleo Breakfast Bake
French Toast
Cherry Scones
Cinnamon Coffee Cake
Breakfast Pumpkin Cookies
Spice Coconut Pancakes
Raspberry Breakfast Cake
Apple Clafoutis
Pumpkin Pie Muffins
Egg-Free Pumpkin Pie Muffins
Apple Cinnamon Coconut Pancakes
Apple Cinnamon Coconut Pancakes (egg-free)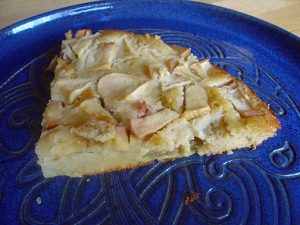 Snacks
Dairy-Free Eggnog
Vegan Eggnog
White Hot Cocoa
Pumpkin Dip with Apple Slices
Holiday Pecans
Spiced Pumpkin Seeds
Mains:
Roasted Turkey
Rosemary Roasted Chicken
Rosemary Lime Garlic Chicken
Cornish Hens with Apple Gravy
Honey and Citrus Glazed Ham
Inspiration Turkey Soup
Salmon with Charmoula Sauce
Orange Salmon
Veggie Pot Pie
Quinoa and Spinach Stuffed Bell Peppers
Spaghetti Cacio e Pepe e Fagioli
Sides – veggies:
Butternut Squash and Creamed Spinach Gratin
Mashed New Potatoes with Garlic and Rosemary
Mashed Cauliflower with Rosemary and Garlic
Roasted Brussels Sprouts
Roasted Brussels Sprouts with Bacon and Onions
Cauliflower Rice with Roasted Butternut Squash and Pecans
Butternut Squash Latkes
Cauliflower Rice with Roasted Butternut Squash
Roasted Cauliflower
Sweet and Spicy Roasted Veggies
Lemony Green Beans
Simply Steams Green Beans
Roasted Asparagus
Rolls and bread:
Coconut Savory Rolls
Coconut Flour Muffins
Fantastic Dunking Biscuits
Dunking Biscuits
Coconut flour bread
Savory Pie Crust
Stuffing:
Coconut Bread Stuffing
Wild Rice Pecan Stuffing
Grain-Free Pecan Mushroom Stuffing
Savory Stuffing
Savory Mushroom Stuffing
Salads:
Beet and Avocado Salad with Orange Dressing
Citrus and Arugula Salad
Persimmon and Avocado Salad
Condiments:
Gingered Cranberry Raspberry Relish
Spiced Cranberry Sauce
Cranberry Jello
Mushroom Gravy
Herb Gravy
Desserts:
Pies:
Berry Pie
Egg-Free Pumpkin Pie
Pecan Pie
Key Lime Mini Pies
Chocolate Pudding Pie
Autoimmune Pumpkin Pie
Apple Pie with Coconut Apple Crust
Autoimmune Berry Pie
Cakes:
Hazelnut Chocolate Cake with Chocolate Frosting
Gluten-Free Devils Food Cake or Cupcakes
Pumpkin Bars
Fruit and Nut Cake
Flourless Carrot Cake
Egg-free Chocolate Cupcakes
Candy:
Cookies:
Gingerbread Cookies
Coconut Cut-out Cookies
Frosting:
Cashew Date Frosting
Coconut Whipped Cream
Vanilla Coconut Icing
Chocolate Coconut Icing
Pie Crust:
Almond Flour Pie Crust
Graham Cracker Pie Crust
Coconut Pie Crust
Fruit:
Pear Crisp
Baked Apples
Baked Pears
Ice cream:
Easy Pumpkin Pie Ice Cream
Raw Cacao and Mint Smoothie


Looking for an allergen-friendly menu planner for the Thanksgiving? We have three!
All of these menus plus many other holiday menus and recipes are available on the membership site.

Happy Thanksgiving!
Save