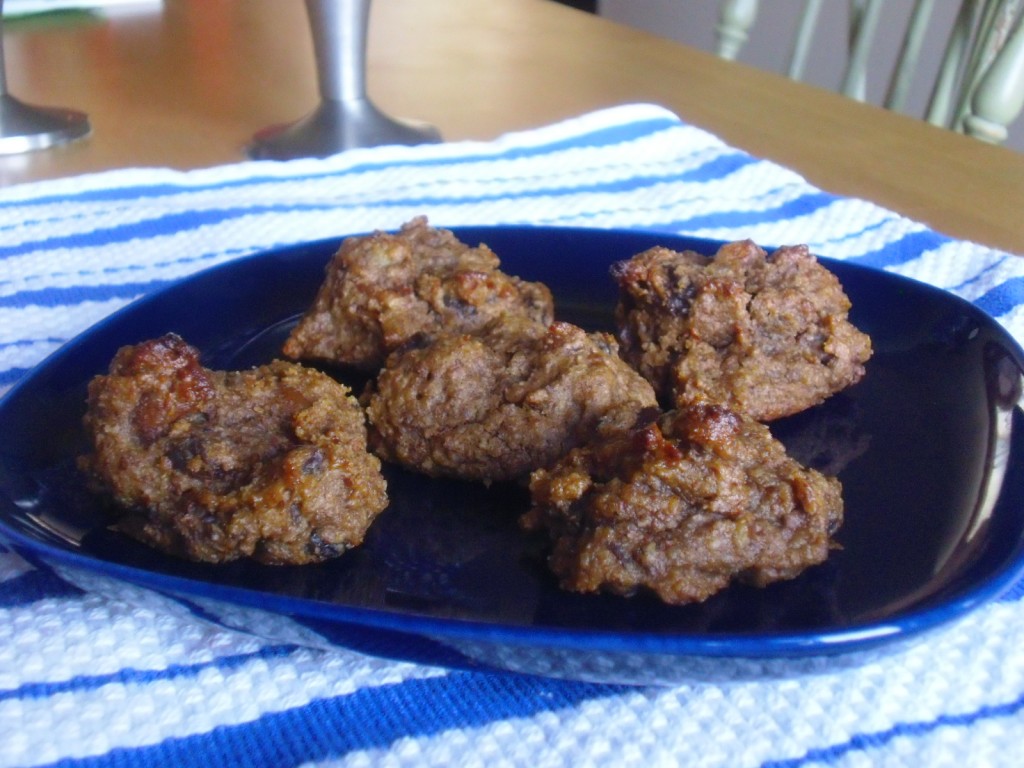 My mom created this very yummy recipe for pumpkin cookies and we were both very pleased with them!  I really couldn't resist them even though I've been cutting back considerably on eating honey and dried fruit these days.
She based this recipe on my other grain-free cookie recipe.  But these are much more moist and plump.  If you love soft-baked cookies, these are for you.
Pumpkin Spice Egg-free Cookie Recipe (wheat, gluten, grain, sugar, and dairy free)
2 cups nut flour – almond, hazelnut, pecan would all work
1/4 cup coconut oil, melted (you can use melted butter too)
1/4 cup honey or other sweetener of choice
1 tsp vanilla
1/2 tsp baking soda (delete for GAPS)
3 heaping tablespoons nut butter
1/4 tsp salt
1 tsp cinnamon
1 tsp. ginger
1 tsp. allspice
1 tsp. nutmeg
about ¾ cup pumpkin
1 cup chopped walnuts
1/2 cup raisins or currants
Steps:
1.  Preheat oven to 350 F.  Mix all ingredients together.
2.  Grease 2 cookie sheets with butter or oil.  Make spoonfuls the size of tablespoons and plop them onto the cookie sheet, spacing them out so that you have about 12 to a sheet.  My mom said the recipe made 4 dozen cookies.
3.  Bake for 12 minutes or until cooked through.  Remove from oven, let cool for about five minutes.  Then remove with a spatula and serve.  Yum!