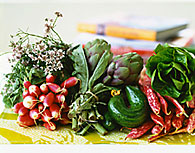 For many years, I have seen the value of eating food that is free of chemicals, pesticides, and preservatives. Therefore, I have always focused on eating foods that are from the earth in there unadulterated form as much as possible. My love of cooking for others has stemmed from this background of eating whole foods.
My own personal background has also included sensitivities to certain foods such as wheat, dairy and sugar. In my personal experience, there are many people who suffer from allergies and sensitivities to certain foods. At the same time, it is very difficult to find food free of certain ingredients and that are also pleasing to eat.
The following menus offers you a glimpse of the kinds of foods I enjoy cooking for people. A lot of the recipes I cook have their origin from other countries such as Thailand, India and Middle Eastern countries. However, I design a menu specifically for each client I have, based on their likes and dislikes as well as allergies and sensitivities. Please note that I do not cook pork, lobsters, or crab legs.  "Fresh items" are better not frozen.
Please note: Most if not all dishes can be made wheat, dairy, soy, nut, and shellfish-free.  All menus are designed for your diet!
Entrees
Seafood Entrees:
Tilapia with Yogurt Pesto Sauce (fresh item)
Cod with Salsa Verde
Fish Sticks
Halibut in Sicilian Sauce
Salmon with Spinach and Peaches
Curried Seafood and Vegetables
Lemon Ginger Coconut Scallops
Crab Cakes
Shrimp Curry
Shrimp Creole
Seafood Paella
Fish Cakes
Poultry Entrees:
Chicken with Peanut Sauce
Maryam's Meatloaf:  a savory meatloaf with cranberries, and a honey mustard glaze
Feta Cheese Stuffed Herbed Turkey Burgers
Curried Chicken and Coconut Soup
Chicken Burritos with Tomatillo Salsa
Turkey Chili
Teriyaki Chicken Kabobs with Pineapple
Herbed Chicken Patties
Moroccan Chicken with Carrots
Mustard Baked Chicken Breasts or Drumsticks
Citrus Marinated Chicken with Tomatoes and Zucchini
Rosemary Chicken
Middle Eastern Chicken Kabobs
Curried Chicken Salad (fresh item)
Pesto Tuna Salad
Oriental Chicken Salad (fresh item)
Beef Entrees:
Beef Tacos
Beef Stew
Sirloin Chops with Spicy Yogurt Marinade
Stir Fried Beef in Pineapple Lemongrass Sauce
Traditional Meatloaf
Spaghetti and Meatballs
Sloppy Joes
Beef Chili
Feta and Herb Stuffed Burgers
Korean Beef
Shepherd's Pie
Shepherd's Pie with Mashed Cauliflower
Shepherd's Pie with Mashed Butternut Squash
Lamb Entrees:
Lamb Patties
Rosemary Lamb Chops
Moroccan Lamb Stew with Prunes
Coconut Lamb Curry
Savory Lamb Stew
Lamb Stew with Sweet Potatoes
Shepherd's Pie
Moussaka (Eggplant Casserole)
Vegetarian Entrees:
Cashew Avocado Enchiladas (fresh item)
Lentil Tabouleh Salad (fresh item)
Tangine of Moroccan Vegetables with Garbanzo Beans
Brown Rice and Vegetable Paella
Vegetable Walnut Patties
Italian Brown Rice Croquettes with Nutty Basil Pesto
Garbanzo Beans and Potatoes in Coconut Sauce
Basil and Nut Stuffed Peppers
Garden Frittata
Hummus
Italian Stuffed Peppers
Black Bean Soup
Vegetarian Chili
Curried Potatoes, Cauliflower and Peas
Butternut Squash Risotto
Artichoke and Leek Risotto
White Bean and Fennel Risotto
Side Dishes
Vegetables:
Glazed Carrots
Greens with Garlic and Peppers
Garlicky Spinach
Spinach with Raisins and Olives
Ratatouille of Roasted Vegetables
Hand-Mashed Potatoes with Fresh Herbs
Root Vegetable Ragout (carrots, parsnips and sweet potatoes)
Zucchini Patties
Asian Green Beans or Asparagus
Gingery Sweet Potatoes
Sesame Broccoli
Asparagus with Lemon Basil Dressing
Sautéed Portobello Mushrooms
Sweet Potato "Fries"
Grains:
Short Grain Brown Rice Pilaf
Quinoa Pilaf with Cranberries and Almonds
Herbed Basmati Rice
Spanish Rice
Moroccan Couscous
Curried Rice
Soups:
Coconut Soup
Curried Butternut Squash Soup
Spiced Cream of Carrot Soup
Curried Pear and Parsnip Soup
Cream of Broccoli
Potato Leek Soup
Winter Root Soup
Fennel Soup
Basil-Vegetable Soup
Citrusy Red-Pepper Soup
Gazpacho (fresh item)
Salads:
(limit one Salad and one dressing per cook day)
Gingery Carrot and Raisin Salad
Spinach Walnut Salad
Fresh Herb Salad
Sunny Salad
Potato Salad
Beets and Greens Salad with Lemon-Basil Dressing
Mediterranean Salad
Homemade Salad Dressings:
Herb Dressing
Sarah's "Goddess" Tahini Dressing
Poppy seed Dressing
Creamy Lime Salad Dressing
Creamy Herb Salad Dressing
Have more questions? Click here to read about Frequently Asked Questions.
Or, are you ready to make an appointment for a no-obligation consultation? Call Sarah at 410-818-0878 or contact her here.