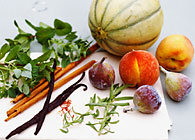 HeART of Cooking Personal Chef Services is a "fee plus" service, meaning that prices are based on a fee, plus the cost of groceries. There is no "mark-up" on the food; you pay exactly what I pay for the food at the store.
Because each client's needs are different, the best way for me to give you a quote for my service is for me to find out what your needs are.  I will work with you to design a schedule and a service that works for you, whether you are single with no time to cook or a family of six or more.
I am flexible and willing to cater to your individual needs.  If you only need my services on occasion, I would be happy to make arrangements for this.  The price per meal is comparable to what you may pay in a restaurant.  However, there isn't a restaurant that can match the personal aspect I offer my clients.
Service Plans and Fees:
3 Entrees and 3 Sides, 4 servings each: (12 meals)
4 Entrees and 4 Sides, 4 servings each: (16 meals)
5 entrees and 5 sides, 4 servings each: (20 meals)
Please contact me to find out specific rates for each plan.
The cost of groceries and containers is additional to the service fee. The cost of groceries can range from $70 to $130 depending upon the service plan, the menu and if you want strictly organic produce and/or meat.  The grocery bill is usually more the first day because I will buy things like olive oil. They are usually less after the first one or two cook days.
Service Area:
Update May 2015: I recently moved to Baltimore, MD! So I am now servicing the areas in and around Baltimore. I live in the Mt. Washington area but will travel to Ellicott City, Columbia, Owings Mills, Towson, downtown Baltimore, etc.
Pricing includes the following:
Meal planning for each cook date
Grocery Shopping
Meal preparation in the safety of you own home
Packaging and labeling
Serving and heating instructions
Leaving your kitchen clean
Additional Information:
A container fee will be added to the first cook date. You may choose re-usable containers, such as Pyrex, or disposable containers, such as Gladware or Ziploc containers. If using disposable containers, there will be occasional replacement costs. Like the groceries, there is no "mark up" on container costs. The container costs will be included on the grocery invoice.
Service fees are due in advance. Grocery invoices are due within 5 days of receipt.
I have a five-business-day notice cancellation policy. If you cancel within 5 business days previous of the scheduled cook date, the service fee is nonrefundable.  Example:  If your cook day is scheduled for Friday, you need to cancel by Monday morning.  If you have a family crisis such as a death in the family, I will refund your money, or reschedule your cook day.The reason why I need five days notice is because cooking for a client takes the better part of the day and I only cook for one client a day.  If you cancel the week of the cook date, it takes me at least 5 days to reschedule that day in my work schedule.
Travel fees may apply when I travel more than 15 minutes in each direction to a client's home.

If you want me to make a dish that is very new to me, I ask to have time to test the recipe and I charge $15 per test.
Ready to see what kind of food you can order and enjoy on a day to day basis?
Please click here to see the selection of food that I offer.
Have more questions? Click here to read about Frequently Asked Questions.
Or, are you ready to make an appointment for a no-obligation consultation? Call Sarah at 410-818-0878 or contact her here.
Save
Save
Save
Save