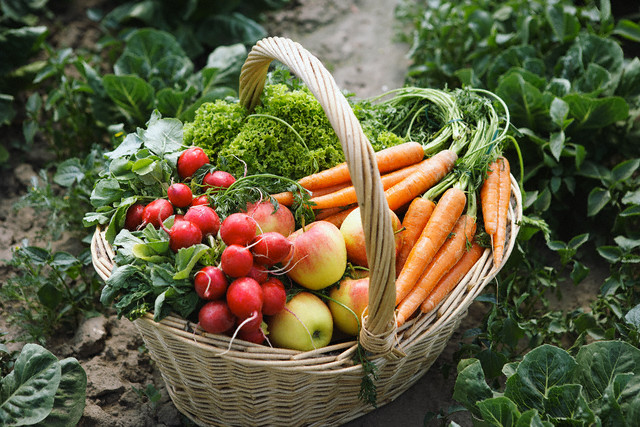 What would it be like to enjoy food that has been prepared and cooked specifically for your diet with fresh and healthful ingredients?
Simply put, I plan, shop for, prepare, cook and package meals for you and your family.  I do this on a single "cook day" in your home and leave your kitchen smelling of home-cooked food. As a personal chef, I currently service Baltimore, Maryland and surrounding areas.
I have been preparing healthy and delicious food for individuals and families since the summer of 2006! Rather than having set menus, I design meals based on my clients' specific needs and tastes. No matter how broad or limited a client's diet is, my goal is to create tasty, wholesome and healthful meals that they will enjoy.
I have worked for clients who simply want to enjoy whole-food and healthy meals and I have also worked with people who have a very limited diet due to allergies or other food limitations. Whatever the case may be, I tailor my service to meet the needs of my clients. I enjoy cooking all kinds of food and always enjoy trying something new to keep things interesting!
When preparing food for clients, I only use whole ingredients and the food I create does not have any additives, preservatives, or dyes in it. I have prepared meals for people who follow varying diets such as Paleo, SCD and GAPS, vegan, vegetarian, low-carb, low-sugar and Weight-watchers.  I am versed in preparing food that is gluten-free, dairy-free, soy-free, nightshade-free, grain-free, and sugar-free. Most recently I have added the Medical Medium protocol to the list of diets I can accommodate during a cook day.
No cost, no obligation consultation: I will spend a significant amount of time with you to discuss your individual dietary needs, food allergies or sensitivities, and any other health concerns you may have.  We will discuss a service plan that works for you and your family that can be either weekly, bimonthly or monthly.  Because all of the cooking will be done in your home, I will take a few minutes to get acquainted with your kitchen.
Menu and Meal Planning: If you and your family decide that my service is a good fit for you, we will schedule a cooking day where I will come and prepare your meals.  Before this day, I will send you a proposed menu based on the food likes and dislikes you shared with me in the consultation.  Payment for the first service is due when we schedule the cooking day.

Grocery Shopping: I will do all of your grocery shopping the day that I cook for you to ensure that the food is at its freshest.
Cooking in your home: Because of health department regulations, I do all of the prepping and cooking in your home.  I bring my cooking kit with me and only need the use of a working stove, running water and a cleared counter space.  I also ask that you make space in your refrigerator and freezer for the meals prior to my arrival.

Leaving your kitchen clean: When I am done, I will package and label all of your meals as well leave you clear heating instructions.  Leaving your kitchen clean, it will smell of fresh, delicious food.  And the fresh meals I have prepared will nurture your body as well as your heart.
Where I serve my clients: I live in Baltimore, and I travel up to 30 minutes each way to see my clients. I service areas in and around Baltimore such as Ellicott City, Owings Mills, Towson, White Marsh and downtown Baltimore. I charge a travel fee when serving areas farther than 25 minutes from my home.
Licensed and Insured: As a personal chef, I carry a $1,000,000 insurance policy in the event that something happens while I am cooking in your home.  My business is licensed, and I am also a member of the American Personal and Private Chef Association.  Click on the logo below to find out more:
Click here to find out about service plans, fees.

Or, Call Sarah today for a FREE consult at 410-818-0878 or email her by clicking here.
Save
Save
Save
Save
Save
Save
Save
Save
Save
Save
Save
Save
Save
Save
Save
Save
Save
Save
Save
Save