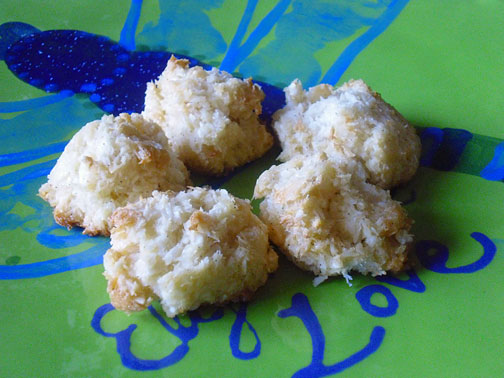 Time for dessert!  I was craving coconut macaroons this week so I ended up making some.  I adapted the recipe in Nourishing Traditions and ended up with a yummy starch-free version (the NT recipe calls for arrowroot).
I was also out of vanilla so I used some real vanilla bean that my sister had given to me from her time in Thailand.  I hadn't used real vanilla bean before she gave me this batch and it is truly a treat!  I had no idea how to use it, but all you need to do is simply cut it in half lengthwise, and the scrape out the little vanilla "balls."
It looks like dark black caviar but very small.   When I made ice cream with it, I cooked the vanilla bean with the scapings and ice creams ingredients and then discarded it.  For the cookies, I just used the insides of the bean.  You can see the little vanilla specks in the cookies: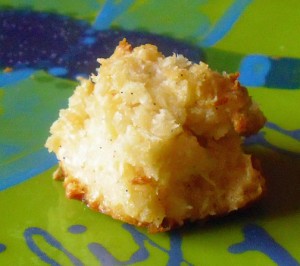 These are really delicious!  They are moist, chewy, not too sweet, vanilla-e and hold their shape.  In my opinion, a perfect macaroon.  Here's the recipe:
Vanilla Bean Coconut Macaroons (gluten-free, grain-free, starch-free, sugar-free, dairy-free, GAPS approved)

Makes about 20 cookies
Ingredients:
4 egg whites
pinch of salt
2 tsp. coconut flour
1/3 – 1/2 cup honey
1 Tbsp. vanilla or the inside scrapings of one vanilla bean
2 cups unsweetened dried and shredded coconut meat, finely cut
Steps:
1.  Line a baking sheet with buttered or oiled parchment paper. Beat egg whites with salt in a clean and dry bowl until they form stiff peaks.  Beat in the coconut flour and slowly beat in the honey and vanilla.  Fold in the coconut.  Drop by spoonfuls on the parchment paper.
2.  Bake at 300 F for about 1/2 hour or until lightly browned.  Reduce oven heat to 200 F and bake for 50 minutes to 1 hour longer so that macaroons are dry and crisp.  Let cool completely before removing from parchment paper (no I didn't do this but that's what the book says to do!)  Store in an airtight container.
Mine were dryer when they first came out of the oven and then they became more moist once they were stored in the container overnight.  I actually prefer them a bit more moist but I think letting them dry out in the oven was important.
I hope you enjoy these as much as we do!