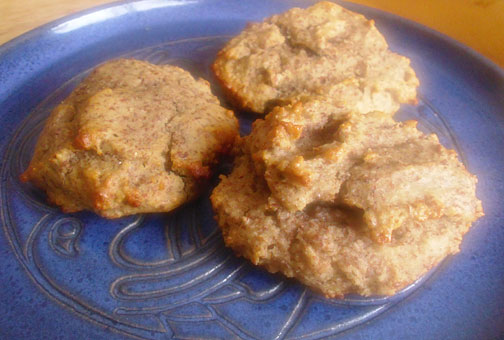 First of all I have to apologize for my absence and lack of blog posts lately!  Things have been a very busy on the home front between shopping for a home and Elijah being sick.  But I hope to get back into the swing of things soon!
So for today I want to share a very yummy and very simple recipe for gluten free drop biscuits.  The original recipe comes from Elana Amsterdam's new cookbook, The Almond Flour Gluten Free Cookbook.  I love her recipes and her blog and they are very adaptable to the GAPS and SCD diets.  I simply use honey in place of agave and coconut oil or butter in place of the grape seed oil.
If you're on GAPS or don't want to use baking soda, I have found that separating the eggs and then beating the egg whites until stiff helps the bread to rise without baking soda.  You can read more about this here.
For this time, I also used almond meal (also called natural almond flour) because I didn't have any blanched on hand.  In my experience, almond meal is more like "wheat flour" and blanched almond flour is more like "white flour." These biscuits were still delicious with the almond meal, but I think they would be a little lighter with blanched almond flour.
So here's the recipe:
Gluten Free Almond Flour Classic Drop Biscuits
2 1/2 cups blanched almond flour or almond meal
1/2 tsp. sea salt
1/2 tsp. baking soda (not GAPS friendly – see this post)
1/4 cup melted coconut oil, butter or olive oil
1/4 cup honey
2 large eggs
1 tsp. lemon juice
Steps:
Preheat oven to 350 degrees; line baking sheet with parchment or grease the baking sheet with butter or oil.
Mix the dry ingredients in a large bowl.  Mix the wet ingredients in a medium bowl.  Combine both in the large bowl until thoroughly mixed.  If you're not using baking soda, also delete the lemon juice.
Drop the batter in scant 1/4 cups onto baking sheet (will make 8-10 biscuits).  Bake for 15-20 minutes until golden brown and cooked through.
Though these have a little honey in them, they are not really sweet.  They are great as rolls or even with sandwich toppings like avocado or salmon salad. Enjoy!  Thanks Elana!