Wow, so it's been three months since I have done a blog post.  This is mainly due to going through a detox the past couple of months that made doing anything above and beyond the most essential tasks of life pretty much impossible.  I did start feeling better a couple weeks ago and this week I have felt much better.
I will be posting a blog post about this adventure very soon because I ended up healing a returning case of eczema on my hand that had been growing consistently the past 6 months over my entire left palm.  I also feel like my brain is back and I am grateful to know that all the detox symptoms I was experiencing are now paying off.  I still feel as though my digestion is still healing but I will get to this in a future blog post soon.
Meanwhile, here is a quick recipe I recently came up with because I wanted to make an apple or pear pie crust that was free of grains as well as nuts, seeds and even coconut.  There are quite a few people who have contacted me who have a coconut allergy and I think that I am even sensitive to it now that I have been on this detox protocol.  I'm hoping this will shift in the future but for now I have been trying to avoid coconut flour and coconut butter (which is really hard when you are already not eating nuts and other seeds!)
I have not been eating dried fruit but I used figs in this recipe because they are considered a low-glycemic fruit.  I did try some pie and I did not have the symptoms I would have if I had eaten coconut or other foods I am sensitive to.  I don't think it is something I should eat all the time but it was a nice treat to have.
As you can see from the picture, the crust is pretty dark because the figs I had on hand were mission figs.  I was going to retest it with Turkish figs but I haven't had the chance to yet.  But if you want a lighter crust, go with the Turkish figs.  Elijah thought the crust was chocolate and he said that it kept tricking him so he wasn't crazy about it for that reason.  But I thought it was very yummy.
Once the pie was cooled and especially after it had chilled in the fridge, the crust was very firm.  If you want to use another kind of fruit other than apples, you could use pears, peaches, berries, or strawberry and rhubarb.  I hope you enjoy it!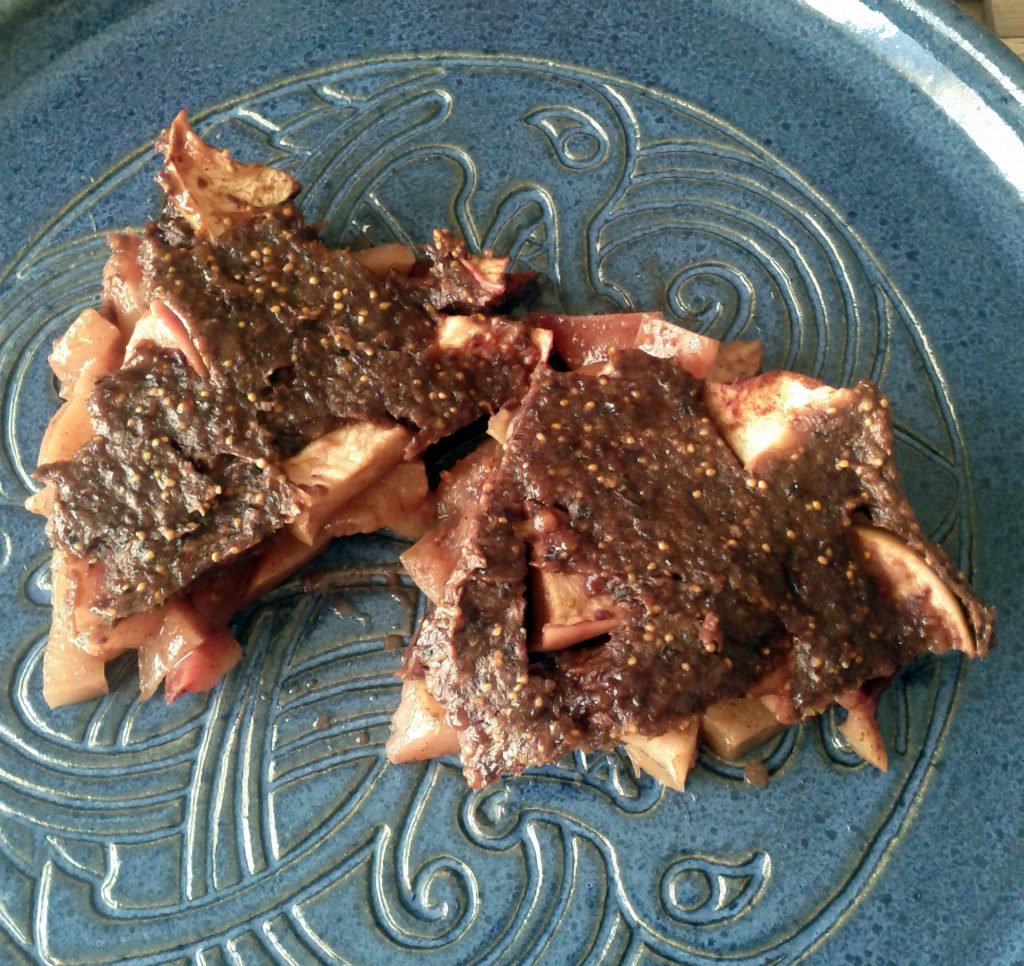 SPICED FIG CRUSTED APPLE  PIE RECIPE
(grain-free, gluten-free, dairy-free, nut-free, sugar and honey-free, coconut-free, GAPS and Paleo-friendly)
Servings: 4-6
4-5 apples or pears, peeled and cut into small chunks (you can see I did not peel mine!)
1/2 lemon, squeezed
1 teaspoon cinnamon
1/2 teaspoon ground ginger
1/4 teaspoon ground cardamom
1 1/2 cups dried figs, turkish figs for a light crust, mission figs for dark
1 1/2 tablespoons grass-fed gelatin
2 tablespoons cold water
2 tablespoons boiling water
Steps:
1.  Preheat oven to 350 F.  Boil a couple cups of water.  Cut the stems off of the figs and then place them into a bowl and cover with boiling water.   Allow to sit for 15-20 minutes.
2.  Place the apple chunks into a pie dish or an 8 x 8 square Pyrex dish.  Add the spices and lemon juice and stir until combined.
4.  In a small bowl, add the gelatin.  Add the cold water and mix until combined.  Add the boiling water and stir until clear.
5.  Drain the figs and add them to a food processor.  Add the gelatin mixture and blend until smooth.  Mixture should be sticky but somewhat firm.
6.  Spread the fig mixture over the apples.  Bake in the oven for 40-50 minutes, or until apples are cooked through.  Allow to cool before serving.
If you chill the pie, the crust will become more firm as it cools.
Nutritional Info: Per Serving: 213 Calories; 1g Fat (4.4% calories from fat); 2g Protein; 55g Carbohydrate; 10g Dietary Fiber; 0mg Cholesterol; 8mg Sodium. Exchanges: 0 Grain(Starch); 3 1/2 Fruit; 0 Fat; 0 Other Carbohydrates.
New Autoimmune Menu Planners + Autoimmune Thanksgiving Menu Planner:
I have also been working on the Autoimmune Menu Planners following Dr. K's autoimmune diet protocol and so far I have 5 complete for fall and winter on the membership site.  There will also be a Thanksgiving Autoimmune Menu Planner and at least 2 more planners for fall and winter.  Coming in the spring I will hopefully have eight more for the spring and summer seasons.  I will be posting a more formal announcement once I have them all complete.  But if you are anxious to get started, the first 5 are available on the membership site.  Enjoy!
Save
Save