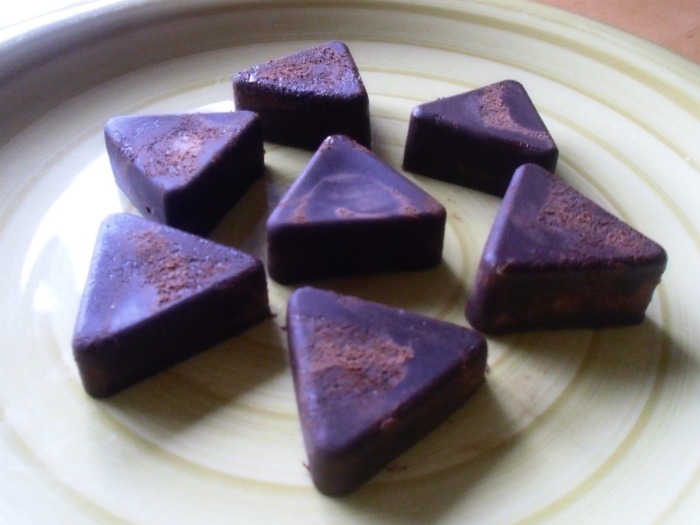 For those of you who may be looking for a healthier chocolate for Halloween and the other holidays coming up, here is an amazing recipe that you can use as a base for just about any recipe that calls for chocolate.  It's gluten-free, dairy-free and sugar-free.  The best part is it is very simple and very easy.  I use honey for sweetness but you could use maple syrup or another preferred sweetener.
You can add nuts, dried fruit, extracts such as vanilla, almond, or peppermint, or anything else you can think of.  Or you can simply enjoy it as is.
To make bars or shapes out of the chocolate, you can use any kind of flexible mold.  I used a flexible ice cube tray that I got at IKEA for the above picture.  You can also buy molds in many different shapes and sizes at craft stores or online.
The only downside of this chocolate is that it will melt at room temperature so it needs to stay in either the fridge or freezer.  I hope you enjoy it!  Happy Halloween!
Homemade Chocolate Recipe (gluten, dairy, and sugar-free)
2 cups raw cacao powder or unsweetened cocoa powder
1 cup coconut oil, melted on low heat
1-2 tablespoons vanilla extract (optional)
1/2 – 3/4 cups honey, raw if possible, to taste (how much it really up to you and how sweet you want it)
Steps:
1. Heat oil slowly over low-medium heat in a saucepan.  Mix in the honey and vanilla.  Then mix in the cacao powder.  Make sure it never boils or gets above medium heat (or 110 F).
2.  Pour mixture into an 8 x 8 pan and put it in the freezer or refrigerator to harden.  Cut off chunks of chocolate and enjoy.  You can also use flexible molds as mentioned above to make it easier to remove as well as make it look like special candy treats for kids.
A note about GAPS:  My understanding about cocoa is that once you have been on GAPS for while, you can experiment with cocoa and see if you can tolerate it.
Save