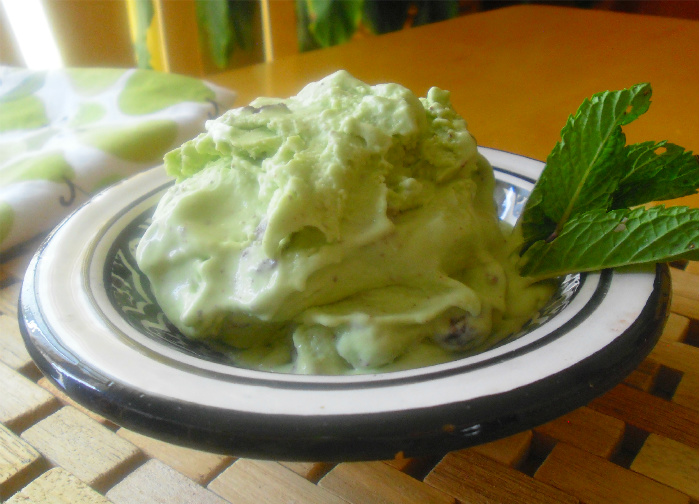 This is something I have been wanting to make for a long time!  Ever since I saw a dairy-free recipe that uses spinach leaves by Gnowfglins, I wanted to try making my own concoction of this old time favorite.  That was maybe two years ago…
I looked at several recipes and in the end, I decided to combine the recipe from http://fastpaleo.com and other recipes that called for avocado.  There are a lot of dairy-free mint chocolate chip ice cream recipes out there but I decided to make my own.  Below is my version.  We all think it turned out extremely yummy.  The avocado not only makes the ice cream green, it also makes it creamy in place of egg yolks.
I used peppermint essential oil, but you can use peppermint flavoring if you don't have essential oil.
MINT CHOCOLATE CHIP ICE CREAM RECIPE
GAPS and Paleo friendly
Dairy-free, sugar-free, egg-free
Servings: 4-6
Ingredients:
13 1/2 ounces coconut milk, homemade, or BPA and guar gum-free
1 avocado, peeled and pitted
4 tablespoons honey, or other preferred sweetener, to taste
6-8 drops peppermint essential oil, or 1 teaspoon peppermint extract
1 teaspoon vanilla extract
1/3 cup chocolate chips, homemade if possible
Steps:
1. Place all ingredients into a blender or food processor except the chocolate chips.  Blend until very smooth.
2.  Follow the instructions for your ice cream maker and pour the mixture into the bowl of the ice cream maker.
4. Once the ice cream starts to firm up, stir in the chocolate chips.  Enjoy!  If you do not eat it all, you can freeze it in a sealed container for later.  Take ice cream out of the fridge 10-15 minutes to soften before enjoying.
5.  If you are using the chocolate recipe I linked to for homemade chocolate chips, simply chop up the chocolate into chips and add them to the ice cream.
Save