Happy New Year!  Yeah, I know it's now February.  I'm a little behind.  Some unexpected things happened in January which set me back a bit and kept me from doing some blog posts like I had intended.  One blog post I hope to do soon will about about egg-free and grain-free baking with the use of grass-fed gelatin.  I have been having great results using gelatin for baked goods and I want to share the ins and outs with you.  Hopefully soon!
In the meantime, I thought I'd give you a line-up of some great treats you can enjoy for Valentine's Day or any day of the year.  Some are from my blog and some are from other blogs that I have either tried or plan on trying out soon.
First, I'll give you a new recipe which I don't have a picture for because it didn't last long enough.  It is the grain-free version of the Devil's Food Chocolate Cupcakes that you could really pass off as brownies because they are so rich.  They are truly delicious and maybe at some point I will have a photo to share with you.
Footnote:  I just realized that I already posted this recipe but have since revised it. You can check out the original recipe but I recommend using the revised one.  The trick is to use milk made from creamed coconut – not just plain coconut milk from a can or carton.  The creamed coconut has the fiber in it and this helps the cake hold together.  Enjoy!
DEVILS FOOD CHOCOLATE CAKE
Servings: 10
Prep + Cook = 60 minutes
This recipe was adapted from the book An Ecological Kitchen by Lorna J. Sass.  It is more delicate than the original version but so moist and very delicious.  It would be yummy served warm with a side of vanilla ice cream.  Enjoy!
2 cups almond flour
1/2 cup cocoa powder, or carob powder
1 teaspoon sea salt
1/2 teaspoon baking soda
1 tablespoon flaxmeal
2/3 cup honey
1 cup coconut milk made from Lets Do Organic Creamed Coconut
1/2 cup coconut oil or butter, melted gently
2 teaspoons vanilla extract
1 teaspoon apple cider vinegar
Steps:
1. Preheat oven to 350 F.  Make the coconut milk first by mixing the package of Lets Do Organic Creamed Coconut with 12 oz of water in a small saucepan.  Heat over medium heat until coconut cream has dissolved in the water.  You will use 1 cup of this milk in the recipe.
2.  Mix all the dry ingredients together in a bowl. Mix the wet ingredients together in another bowl. Mix the dry into the wet and mix until it is thick cake batter consistency. Add a little flour if too runny or add a little milk if too thick.
2. Grease an 8.5 inch square cake pan with coconut oil or butter. Pour batter into pan and bake for 35-45 minutes or until firm.  Cake will still be moist inside.  Let cool for at least an hour or overnight before serving. The cake is very moist and soft.
3.  Once cool, frost with your favorite frosting or icing, or enjoy as is. Refrigerate to preserve cake.
Tip:
Artisana coconut butter or Tropical Traditions Creamed Coconut would also work in this recipe.  General proportions are 1:2 coconut cream to water to make milk.  However, regular coconut milk is not preferable.  Creamed coconut still has the coconut fiber in it which is needed in this recipe.
~~~~~~~~~~~~~~~~~~~~~~~~~~~~~~~~~~~~~~~~~~~~~~~~~~~~~
Valentine's Day Treat Line-up:  Enjoy!
Sunbutter or Peanut Butter Cups
Vanilla Bean Coconut Macaroons
Devil's Food Chocolate Cupcakes
Gummy Hearts – by Robyn Nest
Cinnamon Vanilla Chocolate Covered Almond Butter Bananas – by Primally Inspired
Strawberry Shortcakes – By Against All Grain
Heart Waffles with Strawberry Compote – by Cavegirl Cuisine
Dark Chocolate Fruit Hearts by Multiply Delicious
Happy Valentine's Day!
~~~~~~~~~~~~~~~~~~~~~~~~~~~~~~~~~~~~~~~~~
Looking for a Valentine's Day Menu Planner for limited diets?
You can find the Valentine's Menu Planner here.
Here is the menu: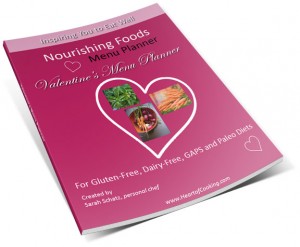 Breakfast:
French Toast and Berry Chia Smoothie
Entrees and Sides:
Chicken Pot Pie and Roasted Carrot Soup
Crab Cakes and Roasted Asparagus
Spice Rubbed Steaks and Greens Sauteed with Garlic, Raisins and Pine Nuts
Spinach Lasagna with White Sauce (nightshade-free) and Strawberry Avocado Salad
Lasagna with Brown Rice Noodles
Desserts:
Hazelnut Chocolate Cake with Chocolate Frosting
Vanilla Raspberry Cake
Gluten-Free Devils Food Cake or Cupcakes
Coconut Bread
Enjoy!
Save