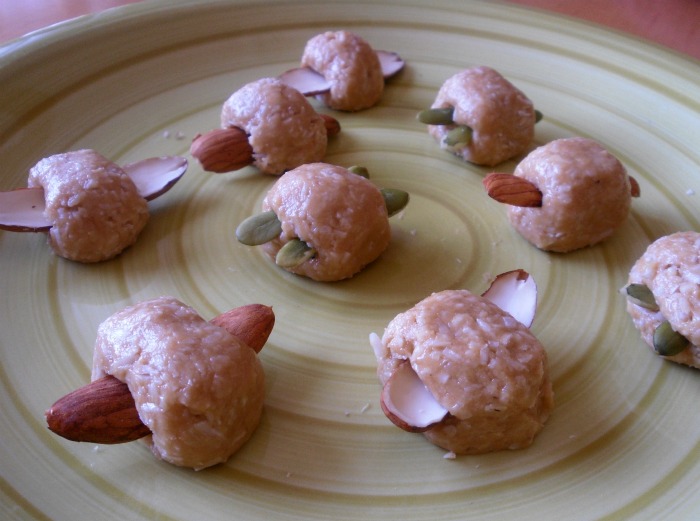 Happy New Year everyone!
I wanted to share a simple and kid-friendly snack that I made with my mom when I was a kid.  It is one of my fondest memories from childhood;  one of those images that just stick out to me when I think about being a kid.  But we used peanut butter instead of tahini and dried milk powder instead of coconut.  So I've made a couple changes but the essence of the recipe is the same:  Bees you can eat.  What more can a kid ask for as a snack?
You can use any kind of nut butter that works for you.  They could be Sunbutter Bees, Peanut Butter Bees, Almond Butter Bees, Cashew Butter Bees.  The list is endless.  And why not add cocoa powder or cinnamon?!
And how about having your kids help out with making these?  They are really fun to make and easy for most kids 2 and above to participate in.
I have to say that I prefer almond, cashew or sunflower butter over the tahini (and my son wasn't crazy about the tahini taste).  But the picture above is of bees made with tahini.  And if you're looking for nut-free recipes, tahini and sunbutter work really well.  I haven't tried coconut butter, however I do think it would work.  You may just have to play with the temperature and the amount of honey so that the coconut butter can be made into balls.
Here's the recipe:
Tahini (or Sunbutter) Bees Recipe:
1/2 cup sunbutter, tahini, or other nut butter of your choice (sunflower butter or nut butter best for kids)
3-4 tablespoons honey
2/3-1 cups unsweetened shredded coconut meat *(see note below)
pumpkin seeds or almonds, soaked and dehydrated
Steps:
1.  Combine the tahini (or other nut butter), honey, shredded coconut together in a mixing bowl.  Stir until well combined.
2.  Add more coconut if mixture is too wet.  Form mixture into small ovals.  Place on a plate.  If you are using almonds, cut them in half lengthwise.  To make wings for the bees, push pumpkin seeds or halved almonds into either side of the bee.  I used 2 pumpkin seeds for each side but only 1 almond half for each side of the bees.
3.  Place in the fridge to harden before enjoying.
Tip:
*If you do not like grated coconut, you could try using a small amount of coconut flour to thicken the mixture.
*Update:  I have recently been mixing sunbutter with honey to make it sweeter for my son, and after it is mixed, and sits in the fridge, it is hard enough to roll with your fingers so your really don't need the coconut or flour.  Enjoy!