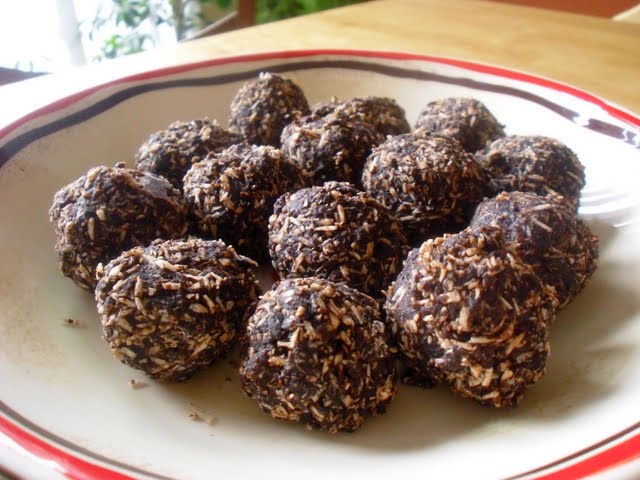 First, a small announcement about the member site launch.  We are hoping to get the site done by Monday, February 14th for pre-ordered customers, and hopefully within a week after that for new customers.  So if you're anxious to get started, the best thing is to pre-order.  Also, if you pre-order, you will receive 5 different pre-made menu planners for different diets immediately in your email for you to use this week.  Onto the recipe…
If you're looking for an amazing treat this Valentine's day that doesn't have the normal allergens such as dairy, wheat, nuts, sugar and eggs, try these yummy macaroons!  I made them this week for Elijah but have since found I have very little will power to resist them.  And while the honey gives me a headache since I haven't been eating it for over a month, this has been the only mild side affect I've had from eating them.
Please note that they are not GAPS legal, though I can't really remember why carob and cocoa are not allowed on GAPS.  I have read though that after one has been on GAPS for a while, cocoa may be okay depending upon the person.  On another note, my husband loves them and hates coconut.  Mmmm?
Anyway, I hope you have a wonderful Valentine's Day.  If you're looking for a menu planner for a special evening with your loved one, check out the Valentine's Day menu planner.  Here is the recipe:
CAROB MACAROONS (egg and nut free)
Servings: 18
Prep + Cook = 45 minutes
* 3 cups unsweetened coconut meat
* 1 cup carob, or cocoa or cacao powder
* 2/3 cup honey, melted on low heat
* 1/2 cup coconut oil, melted on low heat
1.  Combine the coconut and carob together in a medium mixing bowl.
2.  Melt the coconut oil and honey over low heat until melted.  Do not over heat.
3.  Add the oil mixture to the coconut and stir well until combined.
4.  Form into walnut sized balls.  You may need to squeeze the balls with your hands to make them stick together.
5.  Place balls on a pan or a plate and place in the fridge.  They will harden within 20-30 minutes, but you can put them in the freezer to harden more quickly.  If you choose to keep them in the freezer, let them sit out at room temperature for 5-10 minutes before eating.