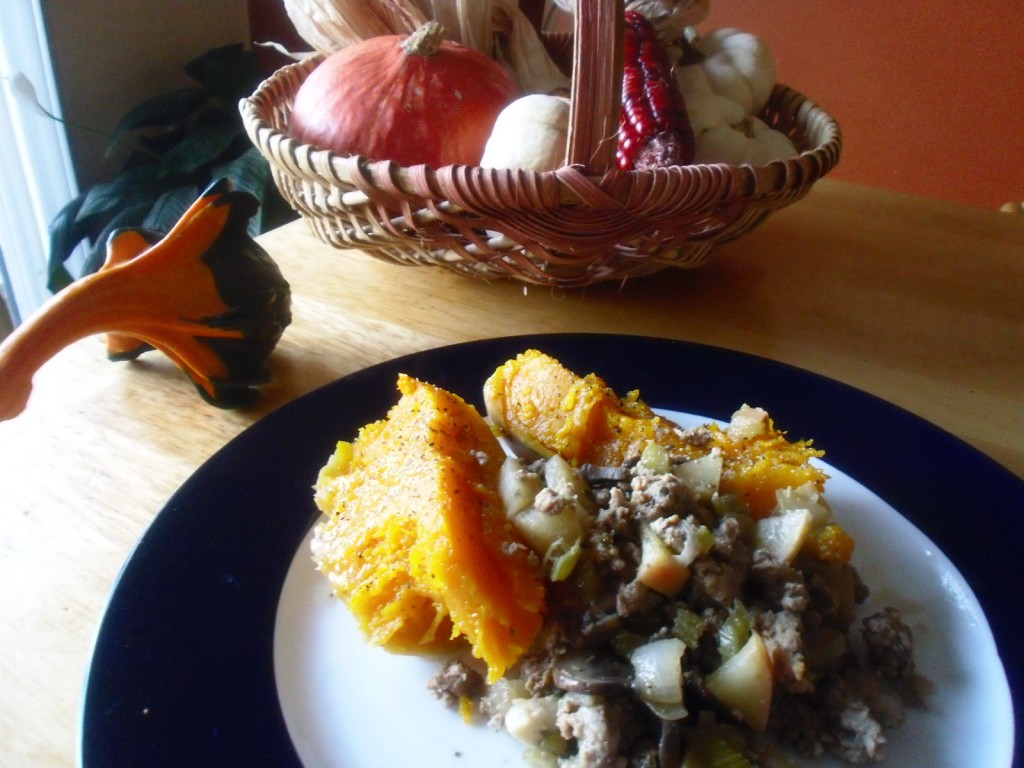 I shop regularly at the Common Market, the local food coop in Frederick, Maryland.  Last week they had a new recipe out which looked really good so I grabbed a copy.  I made some adjustments due to time and diet, but I really loved how this recipe turned out.  And Elijah even said, "this is really good, mom!"  very matter-a-factly.
The original recipe had breadcrumbs and an egg in it, but I left these out due to allergies and wanting to keep things simple.  I also didn't have time to bake the stuffing again in the oven.
Ground Turkey and Apple Stuffed Winter Squash Recipe
This is a great Thanksgiving dish or simply a nice fall dish with wonderful savory flavors!
Ingredients:
2 local acorn squash, or 1 large butternut squash, halved and seeded
2 Tbsp butter, olive or coconut oil
1/2 cup diced onions
2 cloves of garlic, crushed
2 ribs of celery, chopped
1 tsp ground sage
1 lb ground turkey
1 cup mushrooms, sliced
1 large apple, cored and chopped
salt and pepper to taste
2 Tbsp freshly chopped parsley
Steps:
1.  You can either bake your squash or steam it.  I used a large butternut squash and didn't have time to let it bake.  So I halved it, seeded it, and placed it in a large pot, flesh down, on a steamer basket.  I filled the pot with water to just under the basket and then steamed it for about 15-20 minutes.  It was very quick, but it did fall apart a bit when I took it out of the pan.  I couldn't really stuff it because of its shape, but it was very yummy mixed with the turkey.  You can really use any winter squash that you like for this.  If you bake it, bake it flesh down in a little water at about 375 F.  Time will depend upon how thick and large the squash is, but can take up to an hour.
2.  Saute the onions in 1 tbsp of the butter or oil for about 5 minutes over medium heat, stirring occasionally.  Add the garlic and celery and cook for another 5 or so minutes.
3.  Add the pound of turkey, sprinkle in the sage and add the mushrooms.  Let the turkey and mushrooms cook over medium heat while using a spatula or spoon to break up the turkey meat every once in a while.  Before the turkey is completely cooked, add the apples and continue to cook the mixture, until everything is cooked through.  Add salt and pepper to taste.
4.  When the squash is done cooking, place in a serving dish flesh side up.  Add the remaining butter or oil, salt and pepper to taste.  Serve with turkey stuffing either inside squash or on the side.  Enjoy!