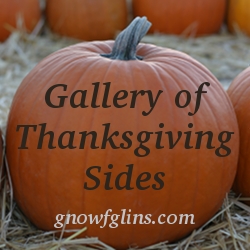 I have to admit that when I think Thanksgiving, I don't think about the traditional Green Bean Casserole.  I didn't grow up eating it and so I tend to think about dishes  like  mashed potatoes and pumpkin pie!  But I received a few requests for this dish on the Thanksgiving Menu Planner so I thought I would take the challenge to create a healthy, gluten-free and dairy-free version.
Most recipes I found called for canned onions loaded with sugar and wheat as well as the all-famous Cream of Mushroom soup.  Well, neither of these ingredients are anything close to allergen-friendly or healthy so I knew everything had to make from scratch!
I found one recipe at Eating Well that caught my eye.  Here is the description of the dish:
"This is not the no-mess, super-easy recipe of yore, but it is low in fat and high in flavor. To go one step further, substitute 1/2 pound fresh green beans for frozen. Simply trim and cut into 1-inch lengths. Then blanch the beans for 1 to 2 minutes in boiling water, refresh under cold water and spread in the baking dish."
So, I took this recipe, which called for milk, sour cream and breadcrumbs and made it gluten-free, dairy-free and grain-free!  I will say that it is no longer low in fat as claimed by the original recipe.  But it is all healthy fat from nuts and healthy oils.
This recipe is part of my Thanksgiving Day Menu Planner, but I decided to make a blog post about it and share the recipe because I think there are a lot of people who would love a healthier and allergen-free version of this traditional but not so healthy recipe!
So here's the recipe!:
Healthy Traditional Green Bean Casserole recipe (gluten-free, dairy-free and grain-free)
From:  Heart of Cooking, adapted from Eatingwell.com
TOTAL TIME:  1 HOUR * MAKES 6 SERVINGS
Ingredients:
Onion topping
1      Tbsp. olive oil
1      large onion, thinly sliced
1/2   cup ground almond, pecan or hazelnut meal/flour
Sauce & green beans
2      cups water
2/3  cups soaked cashews
Pinch grated nutmeg
1      Tbsp. olive oil
1      small onion, finely chopped
1/2  pound mushrooms, trimmed and sliced (3 cups)
1      clove garlic, finely chopped
1      teaspoon salt, to taste
1/2  teaspoon freshly ground pepper, to taste
1      12-ounce package frozen green beans, or 12 oz. fresh – trimmed and blanched
Steps:
1.  To make onion topping: Heat oil in a large nonstick skillet over low heat. Add sliced onion and cook, stirring occasionally, until very tender and golden, about 20-30 minutes. Set aside.
2.  Meanwhile, preheat oven to 350 degrees F. Spread breadcrumbs nut meal on a baking sheet and toast, stirring once, until lightly browned, 5 to 8 minutes. Set aside.
3.  To make sauce: Combine water, cashews, and nutmeg in a blender and process until very smooth.   Poor into a medium saucepan and bring to a low boil over medium-high heat, stirring occasionally.  Once it starts to boil, reduce heat immediately to low and continue stirring until the sauce is thick.  Remove from heat.
4.  Meanwhile, heat oil in a large skillet over medium heat. Add chopped onion and cook, stirring often, until golden, 8-10 minutes. Add mushrooms and garlic and cook, stirring, until tender, 5-6 minutes.  When veggies are cooked, add the thickened cashew sauce and stir into the veggies.  Add salt and pepper to taste.
5.  To assemble and bake casserole: Preheat oven to 425 degrees F. Spread green beans evenly over the bottom of a shallow 2-quart baking dish and pour the sauce over the top. Toss together the reserved onions and breadcrumbs toasted nut meal in a small bowl and spread over the beans. Bake until bubbling, 18 to 25 minutes.
Per Serving: 210 Calories; 14g Fat (55.3% calories from fat); 9g Protein; 16g Carbohydrate; 4g Dietary Fiber; 0mg Cholesterol; 367mg Sodium.
If you make this recipe, I hope you enjoy it as much as we did! I am submitting this recipe to be part of Wardeh's Gallery of Thanksgiving Sides which will be posted on Thursday November 19th.  Enjoy!
And I welcome any comments or suggestions about making this recipe allergen-friendly and healthy.  What would you do to make it nut-free?
Thanks so much!
Happy Thanksgiving!