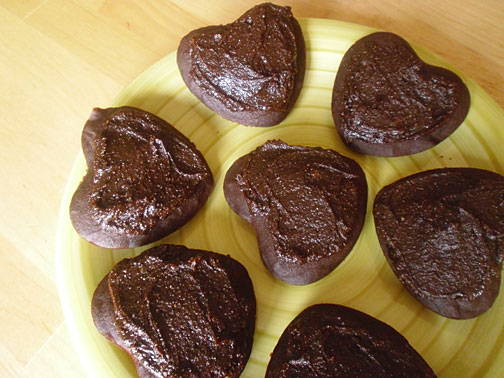 Is you loved one on a limited diet?
Are you looking for the perfect gift to give to them on Valentine's Day?
Many people like to spend a nice meal with their spouse or significant other on Valentine's Day.
However, if you or your loved one is on a limited diet, this can be more complicated than making reservations at your favorite restaurant.
What if you were to surprise your loved one with a home cooked, romantic meal?
Maybe there is a menu that your significant other would love to eat at a restaurant but normally contains their food restrictions.
When I had the idea of making a Valentine's Day Menu Planner, I thought of what kinds of meals that people on limited diets would love to eat – if only they could eat the ingredients!  I also considered food that is known for being "romantic…"
So, I put together a simple but delicious and allergen-friendly menu that I believe almost anyone could enjoy, even if their diet is very limited!
Here is the menu:  (Revised February 2013)
Breakfast:
French Toast and Berry Chia Smoothie
Entrees and Sides:
Chicken Pot Pie and Roasted Carrot Soup
Crab Cakes and Roasted Asparagus
Spice Rubbed Steaks and Greens Sauteed with Garlic, Raisins and Pine Nuts
Spinach Lasagna with White Sauce (nightshade-free) and Strawberry Avocado Salad
Lasagna with Brown Rice Noodles
Desserts:
Hazelnut Chocolate Cake with Chocolate Frosting
Vanilla Raspberry Cake
Gluten-Free Devils Food Cake or Cupcakes
Supplemental Recipe:
Coconut Bread
All dishes are free of the following:
no wheat
no gluten
no dairy (if you can eat cheese, you can use it on the lasagna)
no soy
no refined sugar
no starchy vegetables
no corn
no peanuts
no legumes
no meat
no fish
no shellfish
There are options for the following:
All dishes are grain-free except the Brown Rice Noodle Lasagna
egg free
nut free
coconut free
This menu planner will work for people on GAPS, SCD or the Paleo diet.
What else the does the menu planner include?
An organized shopping list
ALL of the recipes above
Substitution ideas for main ingredients of dishes
So if you want to make a very special meal for that very special person in your life, who may be on a "special diet," here is your chance to wow them!
And it doesn't even have to be for Valentine's Day.  You can use this menu for an anniversary, birthday or any other special occasion.
And it's way more affordable than going out to dinner!  You may also have fun making the food and learning how simple it is to make allergen-free, delicious food!
~~~~~~~~~~~~~~~~~~~~~~~~~~~~~~~~~~~~~~~~~~~~~~~~~~~~~~~~~~~~~~~~~
How do I order my Valentine's Day Menu Planner?
I want to make the planner affordable for anyone who would like to use it to create an allergen-free dinner!
So, for only $3.95, you can buy the menu planner and create a beautiful dinner for your loved one.
You can ORDER the Valentine's Day Menu Planner here!
Please read "Important Information" at the bottom of the page before buying.  thank you!
~~~~~~~~~~~~~~~~~~~~~~~~~~~~~~~~~~~~~~~~~~~~~~~~~~~~~~~~~~~~~~~~~
Important Information:  (Please read and follow these steps to receive your menu planner)
When you click "Buy Now," you will be directed to Paypal where you can pay securely for the menu planner.
If you don't have a Paypal account and don't want to create one, you can pay by credit card by clicking on the link inside Paypal that says, "Don't have a Paypal account?  Pay by credit card."
If you want to pay by check, please contact me for my mailing address.  I will add you to the list once I receive your check.
Once you pay for the menu planner in Paypal, you will be directed to a confirmation page, asking you to check you email for a confirmation email from Sarah Schatz.
Check your email (the email address that is linked to your Paypal account) and click on the link inside the email to confirm your email address.
Once you confirm your email address, you should receive the menu planner immediately in your email as a PDF document.  Sometimes this can take up to 3-4 hours though.  
If you are having trouble receiving your menu planner, please visit my FAQ page where I walk you through how to troubleshoot the problem.
If you have followed all of these steps and you do not receive it right away, please send me an email and I will send you a link to the menu planner.
I hope you have a beautiful Valentines' Day, no matter what your diet is!