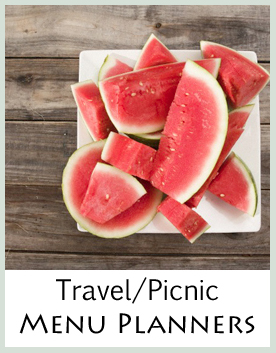 These menu planners are chock-full of allergen-friendly recipes that are great for on-the-go meals.  These menu planners will help you create wonderful school lunches for your children or whenever you are traveling and on the go.
Details:
5 menu planners of recipes designed specifically for breakfast, lunch, snack and on-the-go meals
Each menu planner consists of 5 entrees, 5 sides and 1 dessert
Supplemental recipes included in some menu planners as needed
Recipes are GAPS and mostly Paleo-friendly
Many egg-free recipes
Many nut-free recipes or options
The Meals:
Breakfasts:
Lemon Poppy seed Muffins
Very Berry Fruit Salad
Muesli
Egg-Free Banana Muffins
Spinach Quiche Muffins
Sunflower Bars
Morning Glory Muffins
Turkey Sausages
Cauliflower Hash
Lunches :
Basil Peach and Chicken Salad
Pumpkin Avocado Wraps
Skordalia with Carrot Sticks (Greek white bean spread with walnuts)
Curry Chicken Salad
Chef Salad in a Jar
Hard Boiled Eggs
Italian Lentil Pate Wraps
Salmon Salad Wraps
Chicken Salad with Avocado, Lime and Cilantro
Southwestern Bean Dip
Tortilla Pizzas
Hemp Seed Tabouleh
Basil and Tomato Chicken Salad
White Bean Hummus
Easy Egg Salad
Chicken and Mango salad
Egg-Free Tuna Salad
Pear Pecan Chicken Salad
BLT with Avocado
Beef and Bean Burritos
Veggie Sides:
Roasted Eggplant Wraps
Green Bean Salad
Carrot Spread
Veggie Platter
Chunky Gazpacho
Breads and crackers:
Almond flour tortillas
Seed Flatbread
Sesame Crackers
Seed crackers
Lemon Rosemary Bread
Almond Butter Bread
Snacks:
Baked Zucchini Chips
Ants on a Log
Beef Jerky
Kale Chips
Cheesy Kale Chips (nightshade-free)
Sunbutter Bees
Celery Sticks with Ricotta Cheese and Olives
Beet Chips
No Nut Trail Mix
Easy Trail Mix
Baked Carrot Chips
Spiced Pumpkin seeds
Banana Chips
Desserts:
Vanilla coconut cream candy
Raw Peach Crumble
Homemade Jello
Dried Watermelon
Cashew Apricot Bliss Balls
Supplemental:
Slow cooked Chicken
Homemade Mayo
Avocado Mayo
Almond Milk
Almond Feta Cheese
Roasted Garlic
How do I order the Travel and Picnic Menu Planners?
The Travel and Picnic Menu Planners and recipes are available on the membership site where you have unlimited access to all menu planners and recipes!

100% Guarantee! Be satisfied with delicious, healthy, and allergen-free recipes or receive a full refund within the first 30 days!

~~~~~~~~~~~~~~~~~~~~~~~~~~~~~~~~~~~~~~~~
By purchasing an Allergy Free Menu Planner, you will:
• Save time – no more searching for new and interesting recipes to feed you family
• Save money – no more impulse buying because you have a shopping list for the whole week
• Eat delicious food – no more "getting by" with tasteless frozen meals
• Eat healthier – by eating homemade foods made from whole ingredients
• Spend more quality time with you family – no more waiting for your dinner table at a restaurant
• Eat a variety of foods – no more eating the same meals every week
• Have less stress in your life – no more trying to figure out what to cook at the last minute
• Have less shopping trips – no more running to the store for forgotten ingredients
• Eat foods that work for your body – no more cheating on your diet because you want to eat something yummy or can't find something to eat.
• Feel Happy and Healthy! When people follow a diet that works for their body, they often feel better than they ever thought possible!
Save
Save