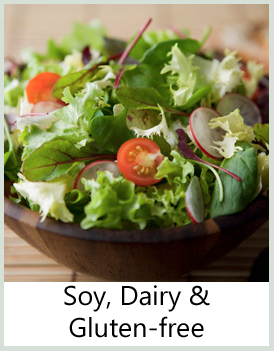 Are you looking for a whole foods gluten/grain, dairy and soy-free menu planner?
These brand-new menu planners were created using the top-downloaded recipes from our membership site so you can have the best recipes we have.
You will receive a total of 3 months worth of recipes for a one-time payment of $19.95.
Order the Soy, Dairy and Gluten-free Menu Planners:
100% Guarantee! Be satisfied with delicious, healthy, and allergen-free recipes or receive a full refund within the first 30 days!

These menu planners are free of the following:
All foods containing gluten: wheat, barley, spelt, kamut, rye, and oats.
All grains including rice, quinoa, buckwheat, etc.
All dairy products: milk, cream yogurt, cheese, butter and other products made from cow's and goat's milk.
All soy products and foods containing soy: soy sauce, tofu, miso, tempeh, soy milk, soy oil, soy lecithin and other soy byproducts
Refined sugar, alcohol, preservatives, MSG and other artificial ingredients.
The recipes in these planners do not include beans and legumes so these planners are also suitable for the Paleo diet.
Each week of the Gluten, Dairy and Soy-free Menu Planner includes:
Two breakfast recipes a week
Recipes for 4 delicious dinners
Recipes for 4 complementary side dishes
An organized shopping list for the entire week
One dessert recipe a week to compliment your meals
Some menus have supplemental recipes such as Chicken Broth or Coconut Milk
Here is a breakdown of what these menus include:
3 full months of menus and recipes
6 Spring/Summer menus
6 Fall/Winter menus
Two menu planners will be emailed to you each week for 6 weeks, on the day of the week that you sign up.
Each email will include one Spring/Summer menu and one Fall/Winter menu so you can choose which one you'd like to use.
No need to subscribe to the menu planner site or have recurring charges
One-time fee of $19.95 for a limited time.
30-day money back guarantee
More details:
Every recipe uses real, whole foods: fresh vegetables and fruits, protein such as poultry, fish and some red meat. Some seeds, nuts, and eggs are used.
Easy to follow recipes for each dish
Many recipes are quick to prepare: 30-35 minute prep and cook time total for each meal.
Kid-friendly tips for some recipes.
Nutritional information is included in all recipes.
Many recipes are family-friendly.
Here are just some of the most popular recipes that are used in these new menu planners:
Main dishes:
Turkey Sausages
Grain-free Chicken Tacos
Fish Sticks
Moroccan Chicken with Carrots
Chicken Zucchini Noodle Soup
Turkey and Apple Stuffed Winter Squash
Chicken and Veggie Stir Fry
Hearty Fish Chowder
Zucchini Spice Muffins
Coconut Fried Chicken
Pumpkin Pesto Chicken
Tuna Tahini Salad Spinach Wraps
Lemon Herb Chicken with Tomato and Zucchini Relish
Beef Burrito Bowl
Fruit and nut breakfast bars
Mediterranean Oven Roasted Cod
Slow Cooked Herb Chicken or Rosemary Lemon
Savory Turkey Burgers
Blueberry muffins
Beef and Broccoli Stir Fry
Salmon Salad Lettuce Wraps with Avocado Mayo
Sides:
Spaghetti Squash Hash Browns
Sweet Potato Fries
Mashed Cauliflower with Rosemary and Garlic
Lemony Green Beans
Cacao Mousse
Morning Glory Muffins
Cauliflower Rice
Berry Chia Smoothie
Broccoli Cauliflower Soup (nut-free)
Butternut Squash Hash Browns
Cauliflower Leek Soup
Pumpkin Bars
Almond Flour Drop Biscuits
Apple Clafoutis
Garden Frittata
Lemon Pistachio Chicken over Greens
Mint Lime Wild Salmon
Spiced Lamb Burgers
Pumpkin Seed Avocado Wraps
Almond Crusted Chicken
Avocado Strawberry Chicken Lettuce Wraps
I started creating menu planners for people with food allergies and restrictions in 2008 and I launched the menu planning membership site in 2011. Since then, it's served 1000's of people. I hope these new menu planners will continue to inspire and help people enjoy delicious food!
Ready to eat delicious food?  We put the "yum" back into allergen-free meals!
Order the Soy, Dairy and Gluten-free Menu Planners:
100% Guarantee! Be satisfied with delicious, healthy, and allergen-free recipes or receive a full refund within the first 30 days!
Get a FREE sample menu planner: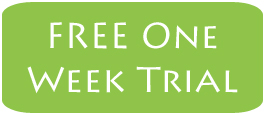 Click here to read what our customers have to say.
By becoming a Heart of Cooking member:
Save time – no more searching for new and interesting recipes to feed your family
Save money – no more impulse buying because you have a shopping list for the whole week
Eat delicious food – no more "getting by" with tasteless frozen meals
Eat healthier – by eating homemade foods made from whole ingredients
Spend more quality time with your family – no more waiting for your dinner table at a restaurant
Eat a variety of foods – no more eating the same meals every week
Have less stress in your life – no more trying to figure out what to cook at the last minute
Have less shopping trips – no more running to the store for forgotten ingredients
Eat foods that work for your body – no more cheating on your diet because you want to eat something yummy or can't find something to eat.
Feel Happy and Healthy! When people follow a diet that works for their body, they often feel better than they ever thought possible!
Save
Save
Save