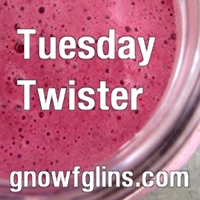 I have been enjoying the Tuesday Twister blog posts by Wardeh Harmon at Gnowfglins.com for the past few weeks or so ever since I found her website.   These blog posts have been a synopsis of her week in the kitchen and what has been twisting in her cooking.  I love reading them, mostly because she focuses on nourishing, whole foods!
Last week she announced her new Blog Carnival, the Tuesday Twister Carnival and her invitation to participate in the weekly postings.  I started thinking about doing this and then a couple days ago, inspiration struck I finally decided to give it a go.  I can't promise I'll do it every week, but we'll see what happens.
My Meal Un-Plan
I started thinking about my week in the kitchen and what it is normally like during our busy days.  And what stood out to me the most was the fact that I hardly ever meal plan.
Okay, so I menu plan for my clients and I create different menu planners for different diets.  But I have to be honest with you.  Rarely do I plan my whole week in advance before I go to the store each week…which usually turns into 3 x a week visiting the store.
What usually happens is I look around in my refrigerator, freezer and pantry, think about what I'd like to make, then see what I can make with what I have.
Sometimes while I'm shopping I will get ingredients for something I have been wanting to make (like my tomatillo salsa) but oftentimes, dinner is a creative process of coming up with something new, yummy and healthy for the family.
So this week's menu which is gluten-free, dairy-free, legume free and I think soy-free…
Of course, the menu was created after the fact…
Tuesday: Garam Masala Lamb burgers and Sauteed Zucchini
Wednesday: Chicken Legs with Caramelized Onions, Basmati Rice and the Tomatillo Salsa I had made on monday.  My mom was having dinner with us and she loved it.
Thursday: We went to the Farmer's Market and bought fresh produce.  But I didn't much feel like cooking so I took some frozen dairy-free and gluten-free pizza out of the freezer that I had made.  We enjoyed it with fresh corn on the cob and watermelon.
Friday: I was craving Tortilla Lasagna, even though I knew the oven would heat up the house.  Made a special trip to the store for the ingredients, and made it with ground turkey, spinach, olives and tomato sauce.
Saturday: Made my first batch of Pot Pie muffins for Elijah.  We took them to Surreybrook Farms for an incredible outing.
For dinner:  Made Chicken Curried Salad and Baked Yukon Gold Potatoes.  I usually would add celery to this salad, as well as green onions, maybe even cherry tomatoes.  But I had none of these so I steamed some green beans, and cut them into 1-inch lengths and put them in the salad.  It was tasty.
Sunday: Made my second batch of Pot Pie Muffins.  I liked these much better.
Made the Chicken Salad again because my husband loved it so much and his parents came to visit.  Also finished off the last of the Tomatillo Salsa.
Monday: My husband made Wild Salmon and Sauteed Zucchini with Marjoram ( nice not to cook every now and then!)
Our first garden harvest (well besides the sugar snap peas):
Sunday was also a day of harvesting our first crop of potatoes.  My husband planted blue, yukon gold, and fingerling and he harvested some of the yukon and fingerling.
This week, our beautiful and big Kuri Squash plants became infected with a white mold.  We treated them with a garlic spray and some baking soda.  However, we don't think they liked the baking soda because they started to wilt shortly after.  But at least we have received two beautiful Kuri Squash from the plants.  Here's one with some wilty leaves:
We ended up harvesting the squash on monday and getting rid of the dying plants.  We also discovered that our yellow (not red like we expected) cherry tomatoes were actually ripe and we enjoyed some of the first ones.  There was a few left for a picture with the squash.  (The zucchini is from my in-law's garden.)
I think that's all I have to report for the week.  I'd love to hear about other people's week in the kitchen!  And please do check out the Tuesday Twister Carnival.