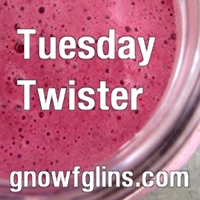 I have been enjoying the Tuesday Twister blog posts by Wardeh Harmon at Gnowfglins.com for the past few weeks or so ever since I found her website.   These blog posts have been a synopsis of her week in the kitchen and what has been twisting in her cooking.  I love reading them, mostly because she focuses on nourishing, whole foods!
Last week she announced her new Blog Carnival, the Tuesday Twister Carnival and her invitation to participate in the weekly postings.  I started thinking about doing this and then a couple days ago, inspiration struck I finally decided to give it a go.  I can't promise I'll do it every week, but we'll see what happens.
My Meal Un-Plan
I started thinking about my week in the kitchen and what it is normally like during our busy days.  And what stood out to me the most was the fact that I hardly ever meal plan.