Like any mom with a child with food restrictions combined with a dose of pickiness, I have been looking for new recipes to feed my son who can't eat dairy products.  I am also allergic to wheat and gluten so I end up making baked goods wheat and gluten free so I can eat them too.
I recently checked out the book, The Kid-Friendly ADHD and Autism Cookbook at my library to see what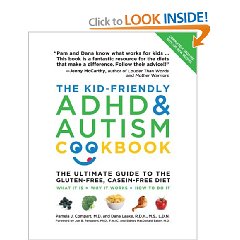 new recipes I might find for the GF and CF diet.  I haven't completely finished perusing the book but for the most part I would highly recommend it.  One great thing about it is that it has many soy, nut, egg and corn-free recipes as well.
One recipe that caught my eye was the "Sensory Sensible Pot Pie Muffins." This recipe is a muffin for kids who can't eat gluten and dairy and who may not like to eat regular chicken or vegetables.   To solve this problem, they put the pureed chicken and veggies right into the muffin.
This, I gotta try, I said.  My son used to eat literally anything I put in front of him.  But with the toddler stage, he has become a bit more picky.  He still loves cooked veggies, especially green beans but isn't too fond of chicken these days.
Also, since we're on the go a lot, I was looking for a snack that was travel-friendly, healthy, gluten and dairy-free and high in protein.  These muffins seemed like the answer!
I really tried to follow the recipe for the first attempt.  But I have to say that although it looked easy, it turned out to be confusing.
Here's the recipe:
1 box (14.8 oz) store-bought GFCF muffin or quick bread mix
1 cup pureed vegetables (one or more of the following:  carrots, squash, peas or green beans)
Steps:
In a large bowl, prepare cake mix batter according to package directions.  Add pureed vegetables, applesauce and chicken and mix to combine.
Lightly grease muffin tin or line with paper liners.  Spoon the batter into the muffin cups, filling each about 2/3rds full.  Bake at 375 F for 25-30 minutes, or until a toothpick comes out clean.*To puree chicken, combine cooked, chopped chicken with a bit of water or stock in a blender and blend until desired consistency is reached.
Easy right?
Okay, so first of all I have to tell you that it's a production to make these muffins.  If you want to make them, make the chicken the night before and make extra veggies when you make dinner for the muffins.  That way you are already half way done.
The other thing that was a bit of a challenge was finding a muffin mix free of sugar.  I personally don't like using cane sugar in baking and every mix I picked up had this in it.  Also, I couldn't find one that was exactly 14.8 oz and I didn't have time to figure out mathematical calculations in my head with my toddler yelling at me, "down, down!"
So, I ended up grabbing the Namaste mix because I wanted to make it simple and follow the recipe as best I could.  It is also made of brown rice verses white rice flour and is free of most allergens.
When it came to baking, I measured out just under 2 cups which is about 14.8 oz.  So I have a bit of mix left because it was a full pound.
So when I went to prepare the muffin mix, I felt I should modify the muffin mix directions because 1) I wasn't using the whole bag and 2)  I felt like these muffins were going to be way to wet when I added the chicken, veggies and applesauce.  So I decided to use one less egg than was called for in the mix (called for 2).
They seemed like a good consistency so I went ahead and baked them.  They were actually good, but still a bit wet.  They taste more like heavy cake than a muffin.  They also deflated a bit due to the heaviness.  I personally like my muffins a bit more muffiny than these turned out to me.  It may have been that the extra egg would have helped, I am not sure.
No matter what I think of the muffins, Elijah loved them.  So there you go!
I decided to take a new approach and sack the prepared mixes.  I started again with one of Elana's recipes with coconut flour because I was interested in making them grain-free as well.  They already called for carrots since they were her carrot muffins so this was a good start.
Here is her recipe and what I did to change the recipe is next to her's:
Gluten Free Carrot Mini Muffins
¼ cup coconut flour (I used 1/2 cup)
¼ teaspoon celtic sea salt (I used 1/2 tsp)
¼ teaspoon baking soda (I used 1/2 tsp)
1 teaspoon cinnamon, ground (I used 1.5 tsp)
3 eggs (I used 5 eggs)
¼ grapeseed oil (I used 1/2 cup)
¼ yacon syrup (I used 1/3 cup agave nectar)
1 tablespoon vanilla extract (to tell you the truth I forgot to add this, but would do 1.5 Tbsp)
1 cup carrots, grated (I used just over a cup and I grated them instead of cooking and blending)
¼ cup currants (I used 1/3 cup)
I added:
1/2 cup chicken puree
1/2 cup applesauce
1. In a medium bowl, combine coconut flour, salt, baking soda and cinnamon
2. In a large bowl, blend together eggs, oil, sweetener, (applesauce, chicken) and vanilla
3. Blend dry ingredients into wet, then fold in carrots and currants
4. Grease a mini muffin tin with grapeseed oil and then dust with coconut flour
5. Spoon approximately 1 teaspoon of batter into each greased mini muffin cup (I used regular sized muffins and it made about 15 and took 25 minutes in the oven)
6. Bake at 350° for 10 minutes
7. Cool and serve
I had a good feeling about these muffins as I was mixing them and as they were baking.  They smelled yummy with the added cinnamon and I felt like they were going to be better than my first attempt.
Besides them sticking to the pans a bit, they were much better than the first recipe – much more springy and muffin-texture-like than the first batch.
The only thing that my be a problem for people is they definately need eggs – I used 5.  With this amount of eggs in them, it would be hard to convert this particular recipe to be egg-free.  They also have coconut flour in them but if one is allergic to coconut, you could use a GF baking blend with rice, tapioca and arrowroot.
As far as making these little babies last, I wrapped each one in plastic wrap and then put them all (except a few to munch on) into a freezer bag and froze them.  That way I can just take out one or two when we need them and they will last a lot longer.
And what did Elijah think of the second batch?  He gobbled them up too!
Anyone else have some great travel-free healthy snacks for kids?  I'd love to hear about them!  Thanks so much!