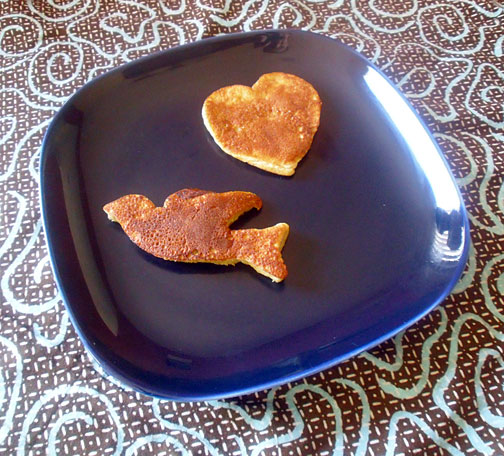 A couple weeks ago I decided to try something different with the regular Saturday morning pancakes my son normally eats for breakfast.  I think it all started when my husband said that his grandmother used to make pancakes in all sort of different shapes, like Micky Mouse and such.
From there, I thought of using cookie cutters and round biscuit cutters to make shaped pancakes.  I wasn't really sure how I was going to do it, but here is how it went:
I got my batter ready and heated up the skillet with coconut oil.  I use a good amount of oil – not so much the pancakes are swimming in it, but so that they definitely won't stick.
I placed a couple of cookie cutters on the skillet and poured enough batter into them until they were a normal pancake thickness.
I really didn't know what I was going to do next.  But once they were cooked on one side, I used a towel to pick up the cookie cutter because it was hot.
Then I used a butter knife to cut around the edges of the pancake next to the cookie cutter.  They gave away pretty easily and dropped down.  I flipped them over and cooked them briefly on the other side.