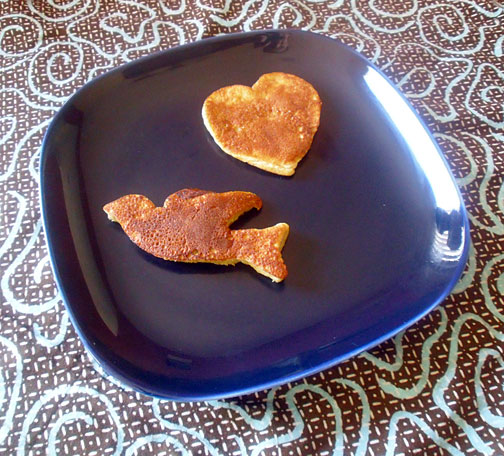 A couple weeks ago I decided to try something different with the regular Saturday morning pancakes my son normally eats for breakfast.  I think it all started when my husband said that his grandmother used to make pancakes in all sort of different shapes, like Micky Mouse and such.
From there, I thought of using cookie cutters and round biscuit cutters to make shaped pancakes.  I wasn't really sure how I was going to do it, but here is how it went:
I got my batter ready and heated up the skillet with coconut oil.  I use a good amount of oil – not so much the pancakes are swimming in it, but so that they definitely won't stick.
I placed a couple of cookie cutters on the skillet and poured enough batter into them until they were a normal pancake thickness.
I really didn't know what I was going to do next.  But once they were cooked on one side, I used a towel to pick up the cookie cutter because it was hot.
Then I used a butter knife to cut around the edges of the pancake next to the cookie cutter.  They gave away pretty easily and dropped down.  I flipped them over and cooked them briefly on the other side.
The next time I decided to grease the insides of the cookie cutters, making it easier for them to plop out.  They really weren't that hard, just a little time consuming to make.  I ended up only getting a picture of two because they were being eaten too fast by my son.
The biscuit cutters actually worked really well because they had a handle and were easier to pick up.  However it was more difficult aiming the pancake batter into them because of the handle.
You could use any kind of shape you like – but I have found that simpler ones are much easier.  Large gingerbread men would be great I think!
Below is the pancake recipe I almost always use.  My son gobbles them up and they are easy as can be to make as long as you have ripe bananas and eggs.
BANANA PANCAKES
Adapted from: grainfreefoodie.blogspot.com (She uses almond butter in the batter but I have made them many times without and they turn out great.)

Ingredients:
1 very ripe banana, mashed
3 eggs
coconut to grease pan
Steps:
1. Heat a medium to large skillet to medium with coconut oil or other fat of choice.
2.  Blend all of the ingredients together in a blender or with a blending wand.  I like to blend them until the eggs get fluffy.
3.  Pour pancakes onto the greased skillet that's been preheated to "medium". Cook until done on one side, flip and watch carefully as second side seems to cook more quickly.
4.  I always have to turn the heat down to about low-medium towards the end of making these, otherwise they burn.
5.  Serve with butter, honey, homemade jam or homemade fruit syrup. Or, sprinkle with cinnamon.