Like any mom with a child with food restrictions combined with a dose of pickiness, I have been looking for new recipes to feed my son who can't eat dairy products.  I am also allergic to wheat and gluten so I end up making baked goods wheat and gluten free so I can eat them too.
I recently checked out the book, The Kid-Friendly ADHD and Autism Cookbook at my library to see what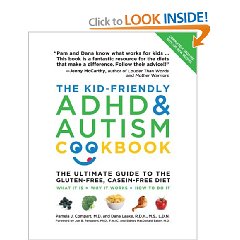 new recipes I might find for the GF and CF diet.  I haven't completely finished perusing the book but for the most part I would highly recommend it.  One great thing about it is that it has many soy, nut, egg and corn-free recipes as well.
One recipe that caught my eye was the "Sensory Sensible Pot Pie Muffins." This recipe is a muffin for kids who can't eat gluten and dairy and who may not like to eat regular chicken or vegetables.   To solve this problem, they put the pureed chicken and veggies right into the muffin.
This, I gotta try, I said.  My son used to eat literally anything I put in front of him.  But with the toddler stage, he has become a bit more picky.  He still loves cooked veggies, especially green beans but isn't too fond of chicken these days.
Also, since we're on the go a lot, I was looking for a snack that was travel-friendly, healthy, gluten and dairy-free and high in protein.  These muffins seemed like the answer!