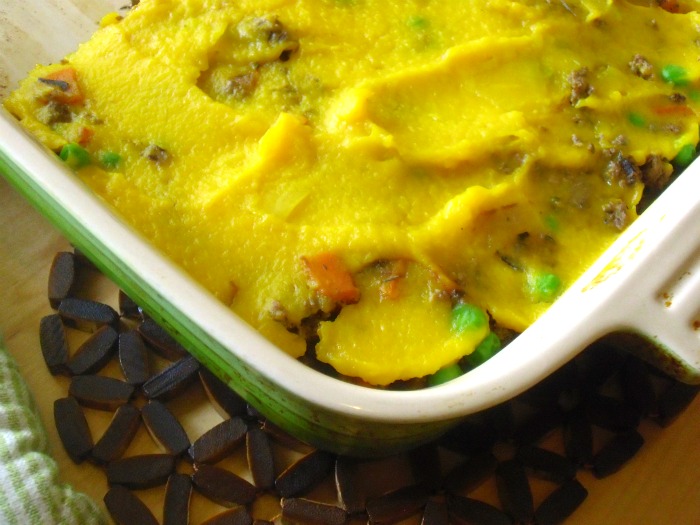 My son loves this version of Shepherd's Pie with mashed butternut squash.  Whenever I make it, he seems to gobble it up (impressive but not great on his digestion I guess!)  I also love making Shepherd's Pie GAPS-friendly by using mashed cauliflower.  However, the butternut squash is sweeter and goes great with the meat filling.  You can call it simple comfort food.  Enjoy!
Recipe for Shepherd's Pie with Mashed Butternut Squash (dairy-free, gluten-free, nightshade-free, GAPS and Paleo friendly)
Ingredients:
1 1/2 pounds butternut squash
3 tablespoons coconut oil
1/2 onion, diced
2 carrots, diced
1 pound ground beef or ground turkey
1 teaspoon dried thyme
1/2 teaspoon sea salt
1/4 teaspoon black pepper
1/2 cup frozen peas
Steps:
1. Peel and seed the squash.  Cut into large cubes and then steam the squash in a large pot over medium heat for about 20 minutes, or until cooked through and very soft.
2. While the squash is cooking, heat 1 Tbsp. coconut oil over medium heat in a large cast iron skillet. Sauté onions in skillet until tender over medium heat, about 10 minutes. Add the carrots and cook for another 5-8 minutes until soft.
3. Add ground beef or turkey and sauté until no longer pink, breaking it up with a spoon as it cooks. Add salt, pepper, thyme and peas.  Cook another 5 or so minutes to cook the peas.
4. Drain the squash and place into a food processor. Add 2-4 Tbsp. coconut oil or butter, salt and pepper to taste and process until smooth.  (You can also use a stick blender in the pot if you have one, or simply a potato masher.)
5. Place beef and onion mixture in 9 x 12 baking dish. Distribute mashed butternut squash on top.  Heat in oven at 375 F if necessary to warm up, otherwise serve as is.
20% off Spring Sale is Coming!
If you have not yet become a member to the membership menu planning website, we will be having a 20% sale starting on Sunday, March 11th through Sunday, March 18th.  Also, a special Lifetime Membership offer will be available to all previous and current customers.  Stay tuned!