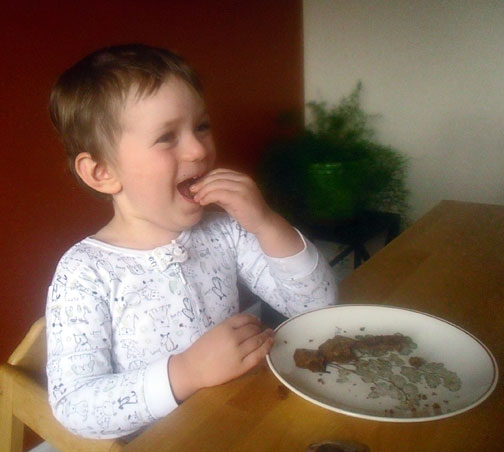 Lucky for all of you egg-free people, I've been experimenting more with egg-free baking these days than normal.  So I came up with a very yummy cookie that is egg-free, grain-free, gluten and wheat-free, dairy-free, and sugar free.  Yay!  I didn't get a good picture of the actual cookies but you can see Elijah was enjoying his!
Cinnamon Walnut Raisin Egg-free Cookie Recipe (wheat, gluten, grain, sugar, and dairy free)
1 1/2 cups nut flour – I tried them with both almond and pecan flour and both are tasty
1/4 cup coconut oil, melted (you can use melted butter too)
1/4 cup honey or other sweetener of choice
1 tsp vanilla
1/2 tsp baking soda (delete for GAPS)
2 heaping tablespoons nut butter
1/4 tsp salt
1 tsp cinnamon
1 cup chopped walnuts
1/2 cup raisins or currants
1/4 cup or less water – start with less and add until you get a good cookie batter consistency
Steps:
1.  Preheat oven to 350 F.  Mix all ingredients except the water together.  Add the water after you have mixed all the other ingredients, a little at a time until you get a good cookie dough consistency.
2.  Grease 2 cookie sheets with butter or oil.  Make spoonfuls the size of tablespoons and plop them onto the cookie sheet, spacing them out so that you have about 12 to a sheet.  This batch makes about 16 cookies so you'll need just part of the second cookie sheet.
3.  Bake for 12 minutes or until cooked through and a little crispy on the outside.  Remove from oven, let cool for about five minutes.  Then remove with a spatula and serve.  They remind me of Oatmeal Raisin cookies.  Yum!