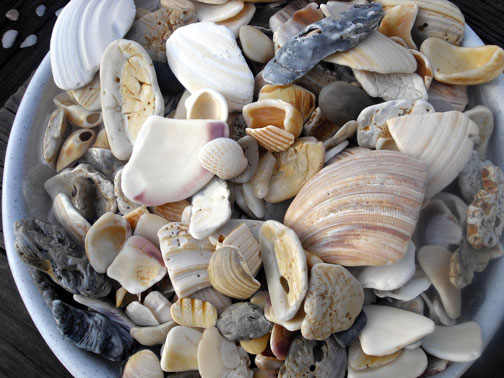 Dreams do come true.  I've been dreaming about the ocean and the beach, literally, for the past couple of years.  I was pregnant two years ago and traveling wasn't very easy so we didn't go.  And last year, we went to the mountains in California but weren't able to visit the beach on that trip.  But this year we took our 21 month old toddler to the beach in North Carolina and we had a ball.
We went with a beautiful family whom we have only recently befriended this past spring.  But with some friendships, doesn't it seem like you've known each other forever?
My friends have three kids, ages 2, 5 and 8.  So counting all the heads, that made eight people to feed, breakfast, lunch and dinner.  To make things more complicated, Jana and I are both gluten-free and Elijah and I are dairy-free.  So before our trip, we did a little gluten-free and dairy-free menu planning and came up with the following ideas for our families:
For dinner:
Turkey Burgers and Sweet Potato Fries (one of my standbys)
Meatloaf (Made with Grass-fed Beef) and Steamed Broccoli (I used almond meal in place of breadcrumbs)
Chicken Burritos with Lime Guacamole (I use Food for Life Brown Rice Tortillas for the gluten-free people)
Lasagna with Ground Turkey (I use Tinkyada Brown Rice Lasagna noodles)
Pasta with "Cheese" Sauce and Green Beans and Peas (I use Tinkyada Brown Rice Noodles)
For breakfast:
Gluten-free pancakes (made one batch with coconut flour and one with buckwheat flour)
Grain and Gluten-free Apple Muffins (made with quinoa flour)
Omelets with Mushrooms, Onions and Tomatoes
Eggs and Toast
Smoothies
Fruit Salad
Lunch:
Chicken Salad with Celery and Raisins (I would have added chopped apples but they made faces at me when I mentioned this!)
Sandwiches and other snack items
Leftovers
Some kid-friendly tips that I learned on the trip:
I learned a lot this week about what a lot of parents struggle with daily – how to feed a children new and different foods they aren't used to.  Luckily the toddlers are not very picky – my little one is used to my "weird" cooking and doesn't question me about if cheese is real or not.  Jana's toddler Zack is also a champ at eating unless he's not hungry.
Jana's middle child, Carly, also liked most everything that was prepared, while Kevin, her oldest, was the hardest customer to please.  And while Jana had said the menu looked good, some of the recipes, like the Chicken Burritos, were new to the whole family.  But this one turned out to be one of the hits of the week (maybe I was lucky).  Even for Kevin, after a little coaxing from his mom, he willingly tried AND finished a whole burrito.  Very impressive!
For the Meatloaf, Kevin didn't want to try it at first.  But Jana asked me to tell him everything that was in it and they were all ingredients he liked but just hadn't had together in one dish before.  He finally gave it a go and I think (possibly) he ended up liking it with ketchup.
I think probably the biggest hit was the Apple Muffins.  Everyone loved them and no one could tell they were gluten or even grain-free.  They were all gone (all 24 plus 1 loaf) within a day.
Some things didn't go over as well with Kevin and sometimes Carly.  But even if they didn't like something, they were always asked by their parents to at least try it.  This produced some grumbling at times but I agree that it is good to help our children broaden their horizons with food.
"Turn Picky Eaters into Kitchen Helpers":
Driving home during the seven hour car trip, I was able to stop and think about and process the week of meals.  Something came to me that I wish I had thought of before the week (isn't that always the case with hindsight?!)
I remembered reading an article recently about how to help your "picky eaters" eat and enjoy new kinds of foods or even homemade food.  The main premise of the article was to enlist your kids to help you with the cooking.  The article pointed out that when children are involved with making a meal, they become much more willing AND excited to try what they have just created.
Makes sense, doesn't it?  But many parents are used to doing all the cooking and many kids are not used to helping.  But based on my own childhood experience, I know that the foundation that was laid while I was growing up created a place for me to feel free to create and have fun in the kitchen while I cook.  I was always helping my mom make baked goods and sometimes dinner, and eventually I started creating dishes of my own in my teens.
For whatever reason though, the kids weren't a part of the dinner making this week.  Even Elijah, who is usually at my side saying, "cook, cook" while dragging a chair to the counter so that he can watch and "help" me, was busy playing outside in the sand most of the time.  So while it may have helped the children enjoy some of the meals had they participated in their creation, I am not sure if a week at the beach is the best time to do this.  I'd rather be outside playing if I were them!
I can't find the original article that I read about this concept, but here are some links to some blogs and articles that talk about this idea of enlisting your kids help with meals:
Turn picky eaters into kitchen helpers
20+ Creative Lunch Ideas:  Ways to Get Kids Involved in Lunchtime
Involve Your Family in the Kitchen

Regardless of whether everyone liked the food or not, we all had a good time at the beach.  It was great getting to know Jana's family more intimately and enjoying our meals together.  The best part for me was watching Elijah play, run, dance and spin on the beach.  He was so at home, running and laughing on the sand and with the waves.  I pray these memories stay with me forever!
Here are some beach pictures.  Sorry no pictures of the food!  I wasn't really planning on doing a post about our trip or the food!  Enjoy!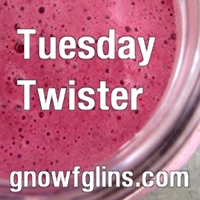 Once again, I am submitting this post as part of the Tuesday Twister Carnival at GNOWFLINS.com.  Please visit Wardeh's site to see the other "real food" blog posts.  enjoy!