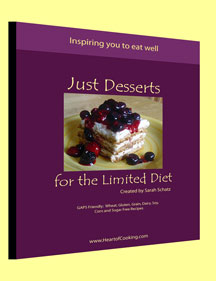 If you're looking for healthy, sugar-free and gluten free dessert recipes and a delicious allergen-friendly Holiday Menu Planner this season, you won't want to miss the 20% OFF pre-order offer that will be expiring tonight at midnight PST.
All of the recipes on both the Just Desserts for the Limited Diet recipe e-book and the Holiday Menu Planner are free of the following ingredients:
no gluten
no wheat
no grains
no starches or nightshade veggies
no refined sugar – only honey is used
no dairy – butter is used but coconut oil can be substituted
no soy
no corn
no peanuts
egg-free options and dessert recipes are on both the menu planner and dessert e-book
Some of the recipes that you won't want to miss out on include:
Dairy-free Egg Nog
Egg-free Egg Nog
Gingered Cranberry Raspberry Relish
Dairy and Gluten-free Coconut Cream Pie
Gluten free Pecan Pie
Gluten free Pumpkin Pie
Gluten free Cookie Cutter Cookies
Gluten free Cookie Press Cookies
Spice Cake with "Butter" Cream Frosting
Walnut Torte with Lemon Whipped Cream Frosting
Almond Brittle
Almond Rocha
and many more!
Also, the desserts e-book and the holiday menu planner make great gifts for the holidays for someone who is limited in their diet.
To read more about the allergen-friendly Holiday Menu Planner and the Just Desserts for Limited Diets recipe e-book and to pre-order, click here.
I hope you're having a relaxed and blessed holiday season!