I feel like a little elf in a workshop, making treats and goodies for the holidays.  I have to say that even though I love to cook and bake, I have never made goody plates for friends for the holidays.  But since I'm working somewhat feverishly on the Holiday Menu Planner and the Just Desserts recipe e-book, I don't know what else to do with all of the baked goods and candies I'm going to be testing and creating over the next week or so.  I'm really looking forward to making gifts out of the treats!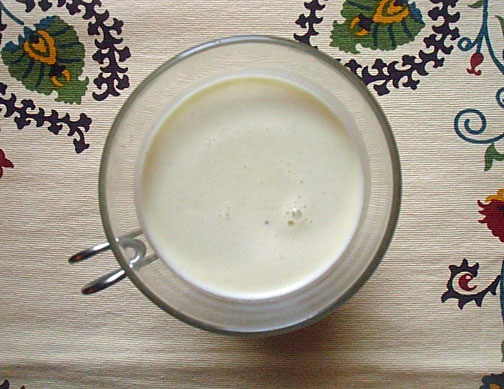 Dairy-Free Egg Nog (also rice and soy free)
Something I have always wanted to make is egg nog.  When I was a kid, we had milk delivered to our house from a milk company. It wasn't raw but it tasted better than any milk at the grocery store.  During the holidays, we ordered the egg nog and it was the richest and yummiest egg nog ever.  I loved it.
I never tried making it, even after I gave up milk because it just seemed too complicated.  Plus, I have had to give up my fear of raw eggs.  I now know that it is safe and healthy to eat raw egg yolks, if you get the eggs from someone you trust who raises the chickens on pasture.
So, I decided to finally give it a go and made my first batch last night.  I used Baden's idea to use coconut milk and adapted Wardeh's recipe to create a dairy-free version.  The result was fabulous and I couldn't believe how much it tasted like the real thing!  I also couldn't believe that I used 2 tsp nutmeg to only 13 oz of coconut milk!  The basic ingredients are coconut milk, raw egg yolks, vanilla, and nutmeg and the complete recipe will be part of the Holiday Menu Planner and the Just Desserts recipe e-book.