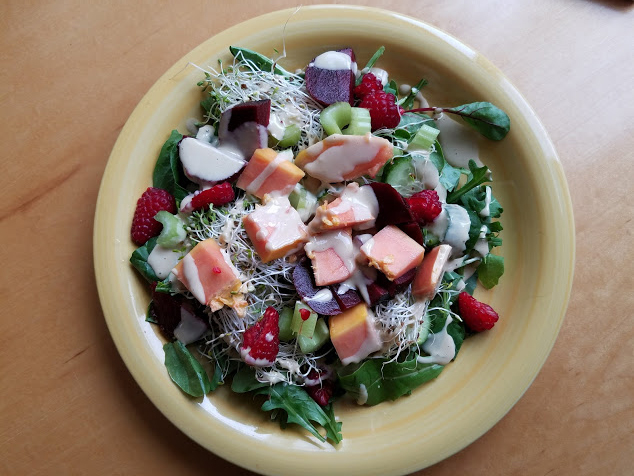 Something somewhat miraculous has happened in my life. After avoiding almost all fruit for two years and starchy and sweet veggies for over nine years, I am eating them again. My food choices had become increasing grim and unappetizing last year where I found myself eating the same limited foods each week: salmon, chicken, turkey, some beef, non-starchy veggies including spinach, broccoli, cauliflower, etc, some cheese, eggs, coconut, nuts, chia seeds…not sure what else. I basically was bored with food and tired of eating because life in the land of food had become so pathetically unpleasing to the eye as well as the palette.
How I started this journey ten years ago when I embarked upon the GAPS diet and how I ended up where I am today eating a (mostly) plant-based diet is quite a long story and I'm still working on writing about about this journey. So in the meantime, I will share what is nourishing and filling me up these days.
Salads! smoothies! papayas! potatoes! sweet potatoes! plantains! dates! To name just a few foods that have become my favorite things to eat.
If you have been on any kind of healing diet that limits fruit and and starchy veggies and you are rolling your eyes right now, I get it. This was me less that a year ago. I'm not going to explain right now, but I promise I will.
And if you eat all kinds of fruit already and you're looking for new inspiration, this post is for you, too.
I want to share some beautiful salad combinations I have been chopping up in the kitchen for the past few months and enjoying daily with my go-to Lemon Tahini Salad Dressing. Yum! And even though it's been winter, I have found myself feeling nourished by the salads when accompanied by warming soups.
One of my favorite salads I am eating right now on a mostly plant-based diet is the one pictured above. It includes the following:
fresh papaya chunks
cooked beets
raspberries
mixed power greens
sprouts
celery
cucumber
homemade lemon tahini salad dressing (I'll give you the recipe for this as the end of the post)
I don't see avocado in the photo but I usually add a bit in every salad I eat these days.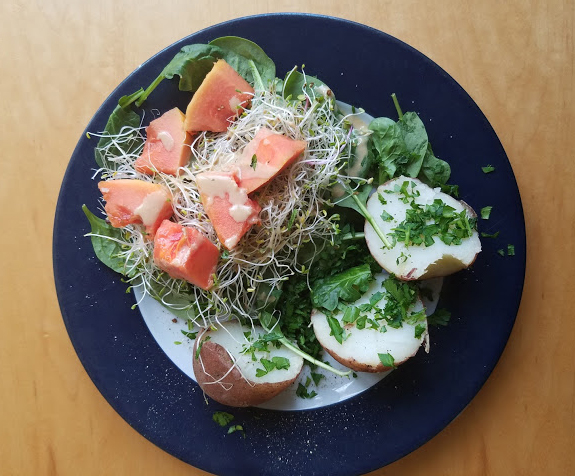 Above is  simpler version with just papaya, sprouts and spinach along with a yummy side of potatoes and fresh parsley. Currently I am love with combining papayas, avocados, greens and dressing together. It makes me so happy!
Since last fall, papaya has become my most favorite fruit and I didn't even know I liked it prior to October. I know some people think it tastes or smells weird, but for me I feel as though my body is being fed, healed and enlivened when I eat it. I believe my body craves it because it has some amazing healing properties for the digestive system.  While I will write more about this later, I will add a quote about papayas here from Anthony William in his book Life Changing Foods:
Papaya is the number one fruit for digestibility. Each papaya contains more than 500 undiscovered powerful digestive enzymes that support the panaceas, aid digestion and mend the walls of the intestinal tract, reducing inflammation and preventing scar tissue from forming there."
Even though I don't want to say a lot here about improved symptoms, I will say that my digestion has improved dramatically since being on a plant-based diet. And I believe that papaya has been one of the key ingredients that has begun to heal my digestion.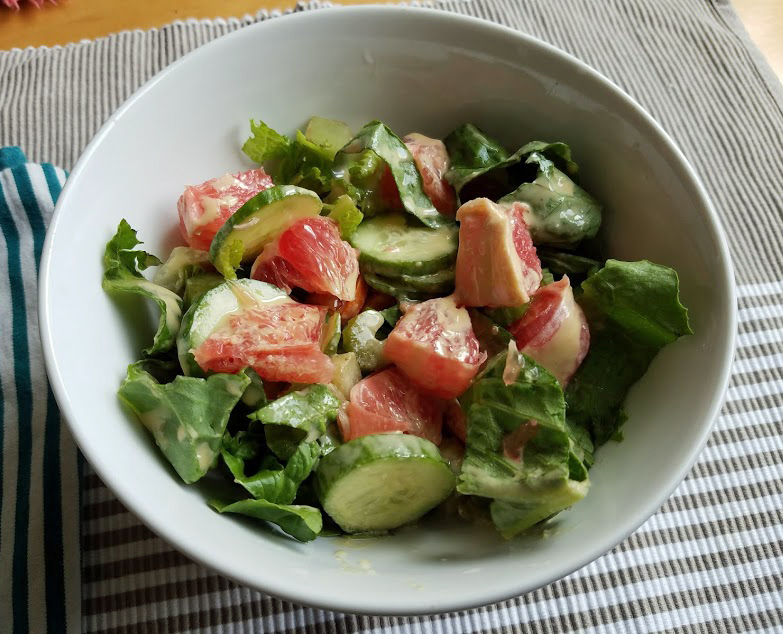 Grapefruit is another wonderful fruit that has become my friend again. Above is a simple salad with:
Romaine
Grapefruit
cucumbers
You could easily add sprouts, avocado, celery, etc.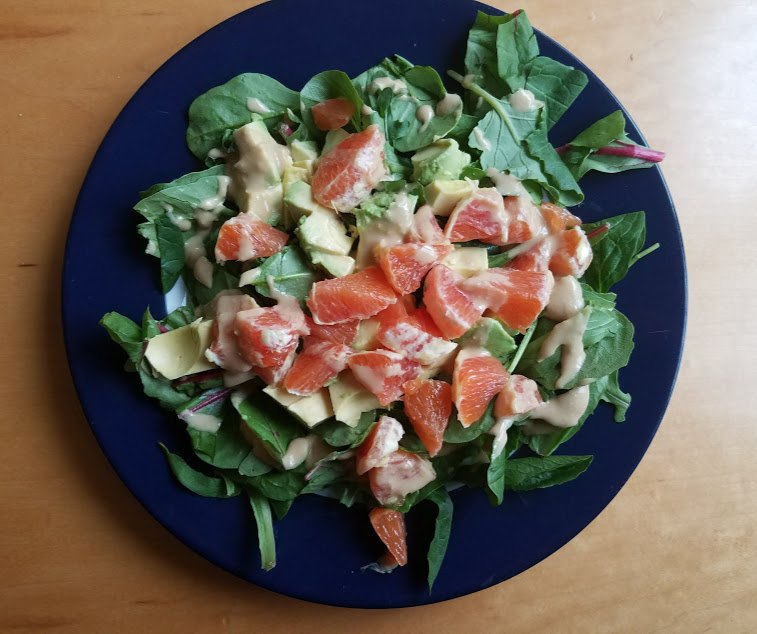 Above is a similar salad using Cara Cara oranges with avocado and power greens. So delicious!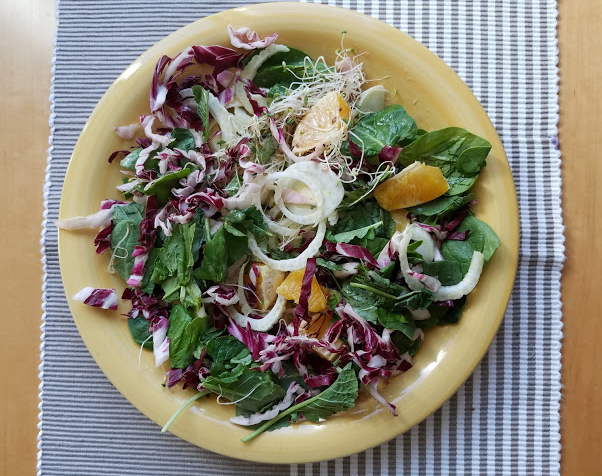 This salad was a surprise to me but I ended up loving it! I had some leftover fennel and radicchio that went wonderfully with tangerines:
radicchio
tangerines
fennel
sprouts
avocado
mixed power greens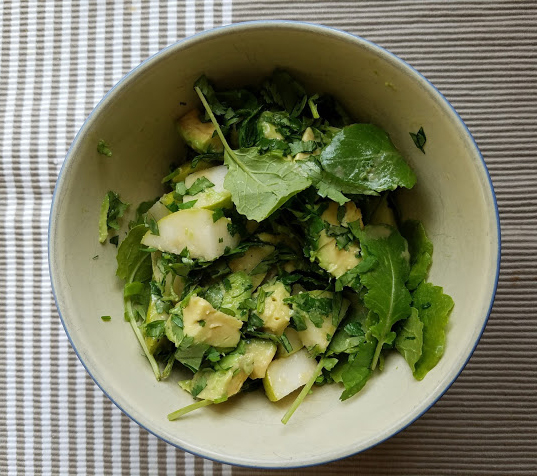 Oh pears, I love you, too! Here is a yummy green salad:
And last but not least, this beautiful creation made with leftover roasted asparagus:
fresh or roasted asparagus
tangerines
mixed power greens
sprouts
avocado
lemon tahini dressing
I have been making my Lemon Tahini salad dressing for years now and it has become my go-to dressing. It's relatively simple to make and stays fresh in the fridge for more than a week. I make the salad dressing in a wide mouthed mason jar to make measuring easy. Then I use a blending wand in the mason jar (be careful!) Lately I have been feeling lazy and have been using a whisk and I have found that this also works great.
HOMEMADE GODDESS DRESSING (Lemon-Tahini Dressing)
Prep + Cook = 15 minutes
This dressing is adapted from Johns Tahini Dressing in May All Be Fed by John Robbins.
1/4 cup lemon juice
1/2 cup olive oil
1/4 cup soy-free coconut aminos
1/3 cup tahini
1 clove garlic, crushed
1/4 cup water
You can add 1 tablespoon honey, or other preferred sweetener but I usually don't.
Steps:
1. Combine all ingredients in a blender and blend until smooth. You can also use a blending wand in a mason jar if you are careful.
Makes about 1.5 cups.
What more can I say? I hope you enjoy these new ideas for salads using the yummy Lemon Tahini Dressing!