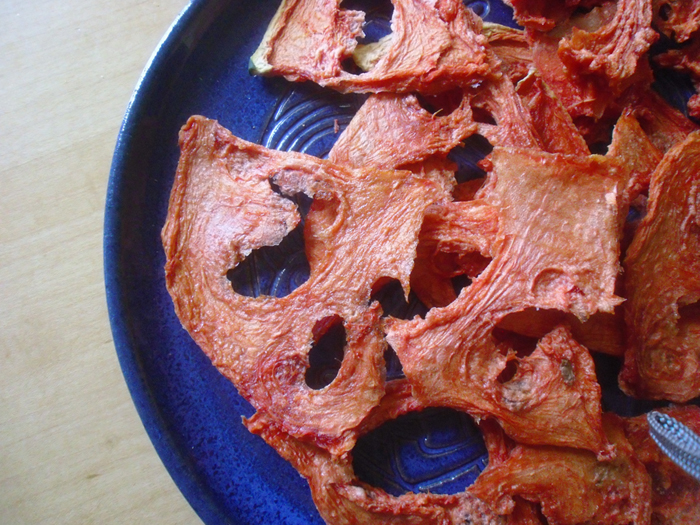 The idea to make dried watermelon came to me through a friend. Watermelon isn't something you normally see in the dried fruit section in stores. But it tastes great dried and is great for traveling. My son loves it!
I would say the downside is that because it is so watery, it does take longer than other fruits to dry. But if you have an excess of watermelon that you don't know what to do with, this is a great recipe to use. It's a great way to enjoy watermelon when it is no longer in season in the later months of the year (if it lasts that long!)
Enjoy!
What you will need:
1 watermelon, sliced in 1 inch, rind removed (depending upon the size of the watermelon, you may only need a half of a watermelon)
a food dehydrator
Steps:
This recipe works best using a dehydrator simply because it can take up to 2 days for watermelon to dehydrate.  However, if your oven goes as low as 145 F, you can use the oven.
1.  For the dehydrator.  Place sliced watermelon on the screens of a dehydrator.  Dehydrate the watermelon at 135 F for up to 2 days, or until watermelon is thoroughly dried.  Check watermelon every 6-7 hours and flip over to allow fruit to dry more easily.
2.  For the oven, preheat your oven to 145 F.  Place watermelon on cookie sheets or place cheesecloth on your oven racks, then place the watermelon on top.  Prop the door open a little bit to allow the air to circulate.  Check the fruit often and flip it over if using a cookie sheet.
I hope you enjoy this recipe!
Save
Save
Save