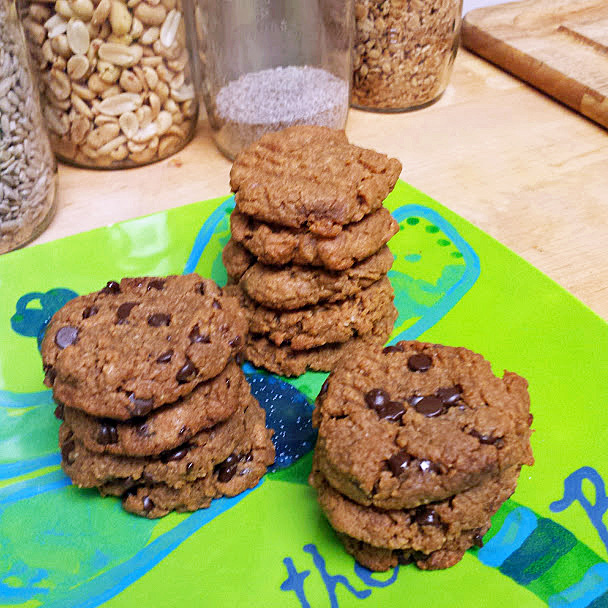 What does one do when stuck inside during a blizzard? Make cookies of course. And if you live in the mid-Atlantic region of the country, you know what I'm talking about. I'm just hoping I can go to work sometime next week. If not, I guess I'll just make more cookies:) I hope that if you're also in the middle of the storm, you are home safe and cozy with heat and a batch of fresh baked cookies yourself.
I had been wanting to adapt this recipe by using gelatin for an egg-replacer for a while but hadn't gotten around to it. The original recipe is from http://detoxinista.com but they contain eggs so I haven't been making them for my son.  Before we figured out his egg allergy, I made them without chocolate chips because we were also avoiding sugar and didn't always have homemade chocolate handy. I really loved them and have missed them!
So, now that he is off eggs (egg whites to be specific) it makes baking gluten-free much more complicated. But I have been enjoying using gelatin as an egg-replacer for some time and it works really well for a lot of recipes. Honestly, I just looked at her recipe again and see that she recommends using a flax egg for egg-free. If you are vegan, this is a good option. But I personally prefer using gelatin over flax because it is tasteless and it makes baked goods chewy on the inside and a bit crispy on the outside.  And this is what resulted when I used it in this cookie recipe. Yum!
As far as making these peanut-free? I haven't yet tried it yet but I'm sure using sunflower butter will work. But make sure it is mixed well and not runny. Please let me know if you try it!
The recipe:
PALEO PEANUT BUTTER CHOCOLATE CHIP COOKIES! (gluten-free, egg-free, refined sugar-free, dairy-free)
Servings: 16 cookies
Prep + Cook Time: 40-45 minutes
Ingredients:
1 cup peanut or sunflower butter, smooth
1/4 cup honey
20 drops liquid vanilla stevia
1/2 teaspoon baking soda
1/2 teaspoon sea salt
1 Tablespoon grass-fed gelatin from Great Lakes
2 Tablespoons cold water
2-3 Tablespoons boiling water
1/3 – 1/2 cup Enjoy Life mini chocolate chips (I made a half batch with no chocolate chips and 1/2 batch with so I used about 1/4 cup)
parchment paper
Steps:
1.  Preheat oven to 350 F.  In a food processor, combine the peanut butter, stevia, honey, baking soda and salt together and process briefly. You can also mix it in a bowl with a spoon if your peanut butter is not hard and chunky. (I was using up an old jar so mine was a little tough:)
2. Place the gelatin in a small bowl and add the cold water. Stir well until softened. Add the boiling water and stir until clear. Add to the mixture in the food processor and process dough until smooth.
3. Take the blade of the food processor out and add the chocolate chips, stirring them into the batter with a spoon.
4.  Place a piece of parchment paper on a cookie sheet.  Using a tablespoon, scoop out slightly heaping spoonfuls of dough.  Form them into balls and then press them down into cookie shapes on the cookie sheet.  This batch made 16 cookies for me.
5.  Using a fork, gently press into each cookie to make a fork pattern.  Then go back and press into each cookie in the other direction, making a cross hatch pattern.
6.  Bake for 10-12 minutes or until golden brown and slightly firm.  Allow to cool for 10 minutes on the cookie sheet.  As the cookies cool, they will be slightly crunchy on the outside and chewy in the middle.  Store in an airtight container in the fridge.  Enjoy!
Save