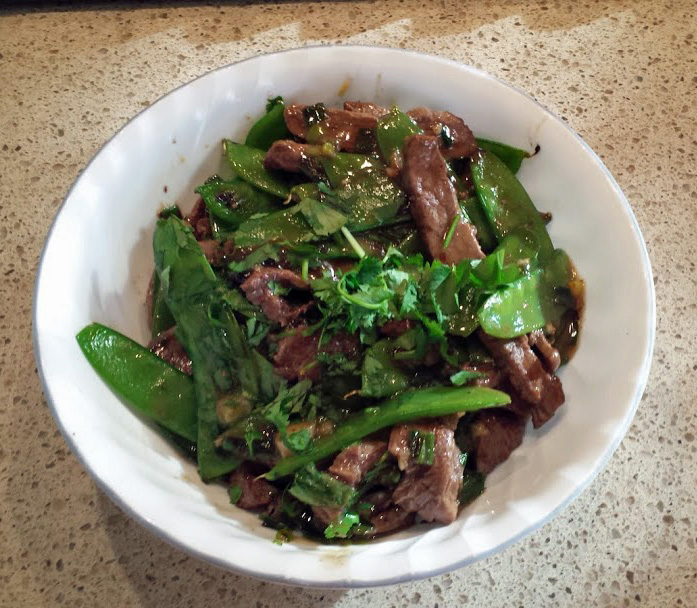 Have you ever wondered how to make a very tender and delicious beef stir fry? It is easy to mess up a beef stir fry recipe and end with meat that is tough and chewy. How tender the meat turns out depends upon the cut of meat you use as well as the way it is cooked. Plus, if you're using grass-fed beef, it cooks faster than regular beef and needs to be removed earlier.
It is a further complication to know how to make a stir fry free of the common allergens found in most stir fries such as soy and gluten. If you are on a limited diet, going to an Asian food restaurant is usually out of the question because even if they have gluten-free options, they probably still use a soy-based sauce to season the food.
But it is possible, and pretty easy to make your own delicious and allergen-free stir fries at home. I have been making gluten and soy-free beef stir fries for my clients very frequently the past year. They are very simple and easy but there are a few important things to be aware of when preparing them:
Use a tender cut of meat. Yes, you can use a less expensive type of steak but I have found that if you use a tender piece of flank steak or tenderloin, it makes a huge difference. While tenderloin is an expensive cut, it will be much less expensive if you buy the complete piece of meat and clean and cut it yourself verses buying the medallions. This is not my area of expertise but you can find good videos explaining how to do this. I have also used flap steak which is also very tender, slightly less expensive but much thinner than flank steak.
Make sure all the fat and connective tissue is trimmed off of the meat. If you can have your butcher make sure it is trimmed properly, this will make all the difference. If the connective tissue is not trimmed, the stir fry will end up a lot tougher.
Cut very thin pieces of meat. I think about 1/4″ is a good measurement.
Cut against the grain. This is very important. For a flank steak, simply lie it down flat lengthwise and the cut vertically across the grain in very thin strips. If you buy tenderloin medallions, you will need to place it on its side and continue the cut in the direction the medallion was cut, again into thin strips.
Cook the meat separately from the veggies, in a single layer and in two batches. Flip the meat after it browns and removing it before it cooks all the way through. Below, you can see flank steak pieces cooking. This was taken shortly before I removed it from the pan.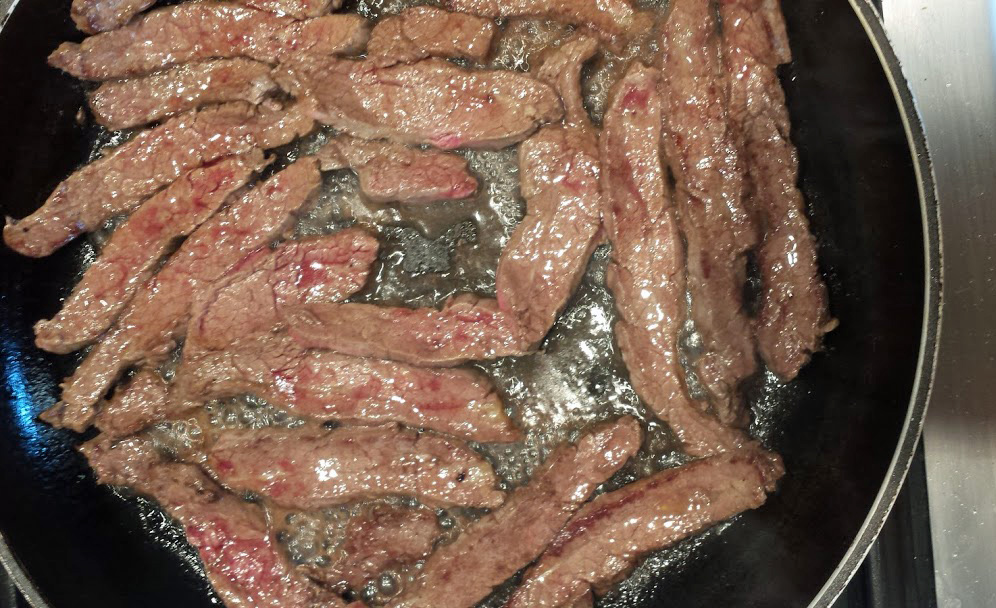 And here is the recipe!
STIR FRIED BEEF WITH SNOW PEAS (soy-free, gluten-free, sugar-free, Paleo, Autoimmune)
Servings: 4
Prep + Cook = 25 minutes
2 teaspoons arrowroot powder
3 or more soy-free coconut aminos, to taste
1 teaspoon sesame oil (use coconut oil for AIP)
3/4 teaspoon ground ginger, to taste
1/4 teaspoon black pepper
1/2 cup cold water
1 tablespoons olive oil
1 pound flank steak or tenderloin, cleaned well and sliced thin, against the grain
1 bunch green onions
2-3 cloves garlic, to taste
1 1/2 cups snow peas
1/4 cup fresh cilantro, chopped (optional)
Steps:
1. In a small bowl, combine the first six ingredients until smooth. Set aside.
2. Heat a large, lightly oiled skillet or wok to medium-high heat. Place half of the beef in the pan, spreading it out so that it is in one layer. Cook on one side for about a minute or until browned. Flip and cook on the other side for another couple minutes or until the beef is no longer pink but not all the way cooked through. Drain liquid from pan. Add the second batch with a bit more oil and cook the same way. Remove beef and keep warm.
3. Stir-fry green onions, snow peas and garlic in remaining oil for 3-4 minutes until they darken in color but are still a bit crunchy.
3. Stir the arrowroot mixture and add to the pan. Bring to a boil; cook and stir for 2 minutes or until thickened. Add beef, stir and heat through. Add more coconut aminos if needed or a bit more water if sauce becomes very thick. Garnish with fresh cilantro. Enjoy!
Serving Description:
Nutritional Info: Per Serving: 295 Calories; 20g Fat (61.2% calories from fat); 24g Protein; 5g Carbohydrate; 1g Dietary Fiber; 58mg Cholesterol; 585mg Sodium. Exchanges: 0 Grain(Starch); 3 1/2 Lean Meat; 1/2 Vegetable; 2 Fat.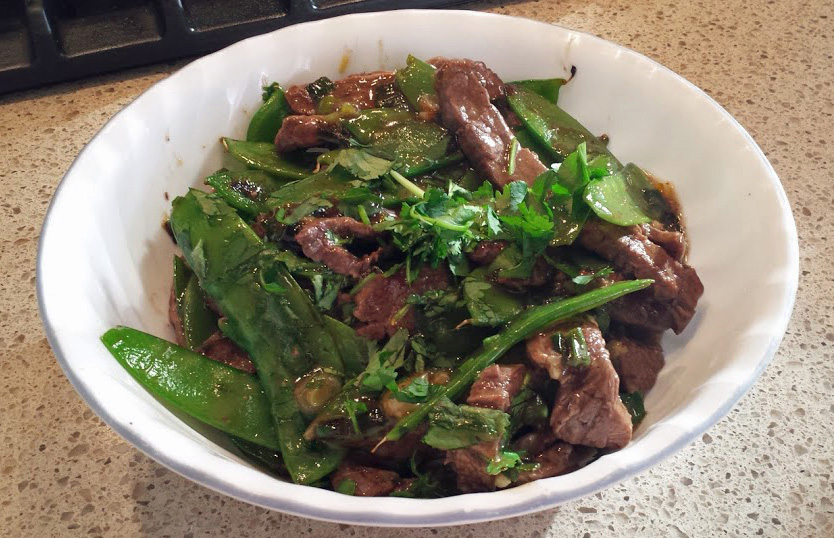 Save
Save
Save