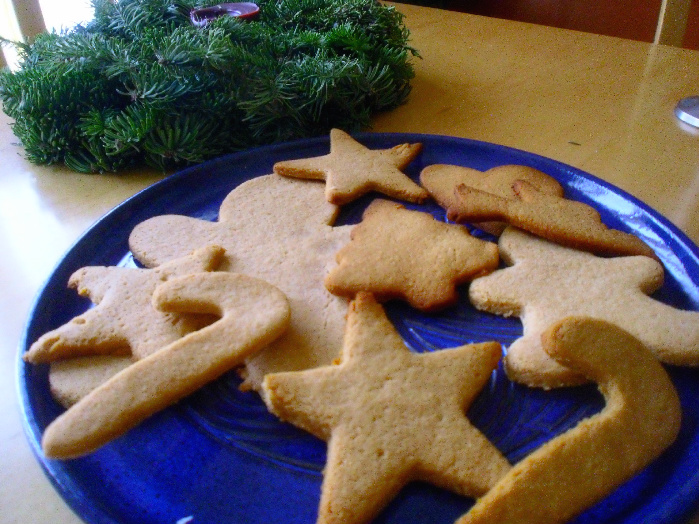 These cut-out cookies are awesome, you wouldn't know that they are egg, nut and grain-free!  We have been enjoying baking with gelatin so much lately – yay!  It really holds the baked goods together so nicely, making them crispy on the outside and chewy on the inside.
I hope to do a more in-depth post about baking with gelatin sometime soon so stay tuned!  If you are looking for MSG-free and grass-fed gelatin, good brands include Bernard and Jensen's and Great Lakes.  (I use Great Lakes.)  We hope you enjoy them and have a wonderful holiday!
COCONUT CUT-OUT COOKIES RECIPE (egg-free, nut-free, sugar-free, grain-free, Paleo, GAPS)
Servings: 30
Prep + Cook = 75 minutes
These cookies were adapted from http://wholelifestylenutrition.com.
1/2 cup coconut oil, room temperature
3/4 cup honey, softened
1 teaspoon vanilla
1 1/4 cups coconut flour, sifted
1/2 teaspoon baking soda
1/4 teaspoon sea salt
1 teaspoon cinnamon
1 tablespoon gelatin, or 2 eggs (delete water)
3 tablespoons cold water
2 tablespoons boiling water
parchment paper
Steps:
1.  Preheat oven to 375 F.  With a mixer blend together the coconut oil, honey and vanilla until creamed.
2.  In another bowl, combine the sifted flour, baking soda, salt and cinnamon.
3.  Add dry ingredients to wet ingredients and blend well.
4.  If using eggs, add them to the batter and blend.  If using gelatin, add it to a small bowl and mix with the cold water.  Add the boiling water and stir until clear.  Add this mixture to the batter and blend well.
5.  Batter should be stiff.  If it is too wet, add a little bit of coconut flour.  If you are using eggs, refrigerate your batter for a few hours before using.
6.  Cut two long pieces of parchment paper about the size of a cookie sheet.  Divide the dough in half and make two balls.  Place one ball of dough on a piece of paper and then cover it with the second piece.  With a rolling pin roll out the dough until it is 1/4 inch thick.
7.  Remove the top sheet and cut the cookies with cookie cutters.  (If the dough is not stiff enough to make cookies, let it sit on the counter for an hour or in the fridge if you have room.)  You can then simply remove the excess cookie dough and save for the second batch.
8.  Bake cookies for 8-9 minutes or until golden brown, either on a greased cookie sheet or the parchment paper.  They burn easily so keep an eye on them.  Continue making cookies until you use up the dough.
9.  Allow cookies to cool completely.  Frost with icing or enjoy as is.
Happy Holidays!
Save