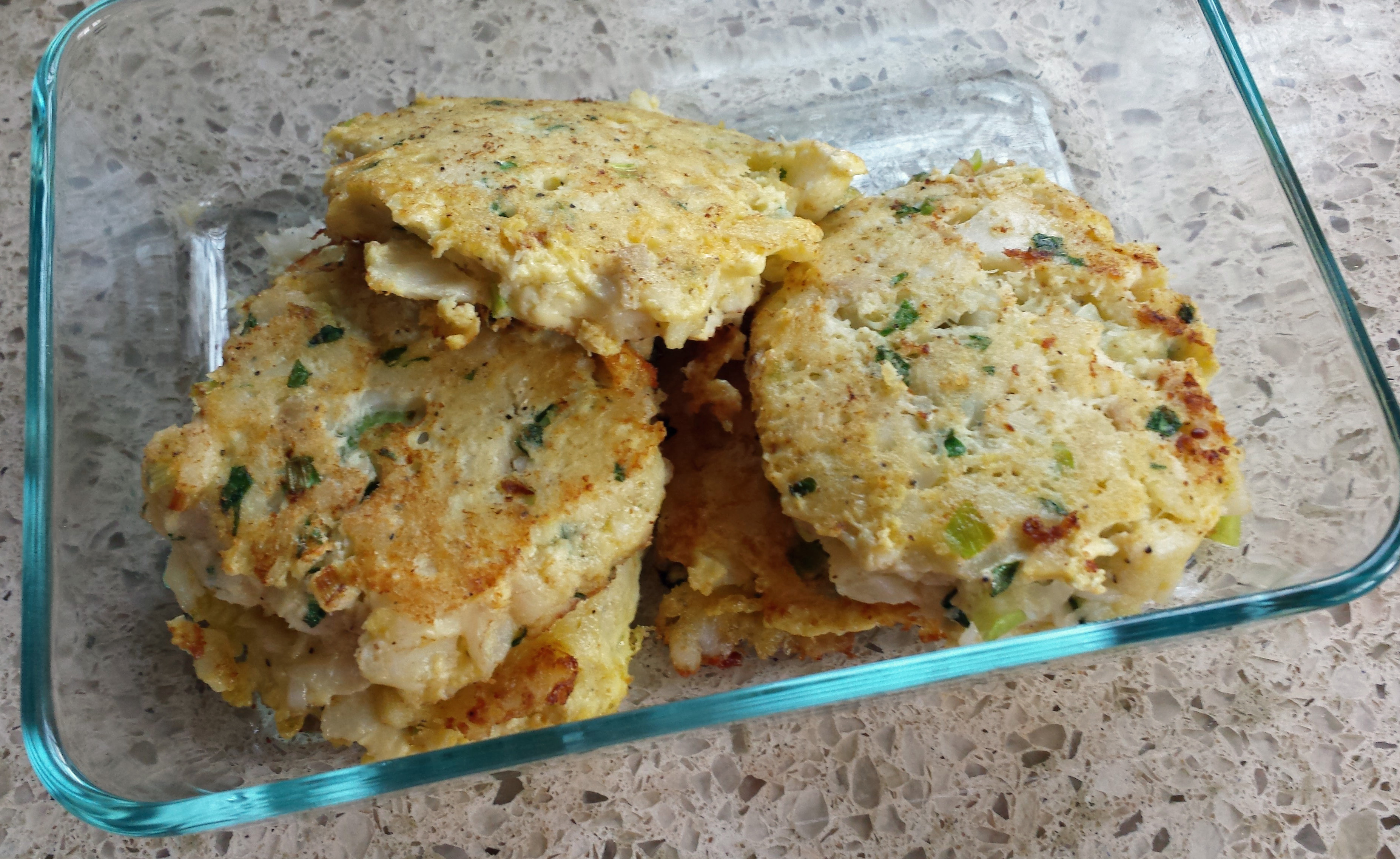 I've been making these cod cakes for my client and she has been loving them.  If you are someone who doesn't like salmon very much and prefers white fish, you will probably love them. Plus they are nut-free which is an extra added benefit for those of you who can't have nuts.  I hope you enjoy them!
Lemony Cod Cakes (nut-free, Paleo, GAPS)
Ingredients:
1 pound cod fillet
3 eggs
2 green onions, finely sliced
5 teaspoons coconut flour
1/4 cup fresh basil, chopped
1 tablespoon lemon juice
2 teaspoons lemon zest
1/2 teaspoon sea salt
1/4 teaspoon black pepper
3-5 tablespoons coconut oil, use generously as needed
Steps:
1.  Steam the fish gently until the fish is tender, about 10 minutes.  Drain and let cool. Remove the steamer basket.
2.  With a fork, remove bones and skin. Then break the fish up with a fork.
3.  Add the remaining ingredients (except oil) together in the pot and mix well, as long as it is drained of all water.  If mixture is very wet, add 1 more tsp. of coconut flour.
2.  Heat a nonstick skillet to medium heat with 2 Tbsp. coconut oil.  I scoop about 2-3 Tbsp. of mixture onto the pan for each fish cake, making about 5 patties per batch.
3.  Fry the patties in oil until golden and the egg is cooked, about 3-5 minutes on each side.  Reduce heat if they begin to burn. Add more oil for each batch as needed.
Tip:
You can use other kinds of fish for this recipe such as salmon or haddock.
It is easier to buy boneless fish so that you don't have to pick out the bones.
Enjoy!
Save