Happy Spring and for those who celebrate, Happy Easter!  Spring is my favorite time of year and I think probably everybody's favorite this year after the harsh winter we had.  I'm grateful for the warm days we've had and the blossoming trees.
Here is a fun recipe you can make with your kids – marshmallow bunnies and other fun spring and Easter shapes.  I found a cookie cutter pack at the craft store that included a bunny, carrot and flower.  Other fun shapes you could use are chicks and other birds.  Our cookie cutters are regular size but you could make smaller ones if you have small cookie cutters.
If you've never made homemade marshmallows before, I highly recommend the video tutorial and recipe from Urban Poser.  I felt somewhat intimated about making them before I saw her video.  But it really is much easier than you would think.  And they taste AMAZING!  And making the shapes out of the marshmallows is also very easy!
GAPS:  If you use shredded coconut, these marshmallows are GAPS friendly.  Some people on GAPS can eat cocoa powder so this is up to you.  You could also use cinnamon instead of cocoa powder.
Paleo:  You can use cocoa powder, cinnamon or arrowroot for Paleo diet.
How to Make Marshmallow Bunnies

Steps:
1.  You will be following the homemade marshmallow recipe for the most part.  The only change I made is that I used a 9 x 13 Pyrex pan instead of an 8 x 8 one so that we had more room to make the shapes.  I just looked at her recipes and I use 3 Tbsp. of gelatin instead of 2 1/2.
2.  After you have let the marshmallows set up in the fridge, take them out and remove the whole marshmallow from the pan.  Peel the parchment paper off of it gently.  Add more arrowroot or shredded coconut to the edges if they are sticky.
3.  Starting with one corner, use your cookie cutters to make shapes, pressing firmly into the marshmallows.  Remove marshmallow from the cookie cutter gently and add more powder to the edges.
4.  Continue making shapes until you run out of space.  If you would like brown bunnies, you can dip the bunnies into the some cocoa powder.  It will stick even if you've already used arrowroot.  My son says they taste better then the regular ones.
5.  Cut up the remaining bits into smaller marshmallows.  Store in an airtight container.
Tip:
This recipe idea is from Martha Stewart.  However she used colored sanding sugar to make the bunnies different colors.  You could use this in place of the arrowroot powder.  http://www.marthastewart.com.
Here are a few more pictures.  Have fun and Happy Spring!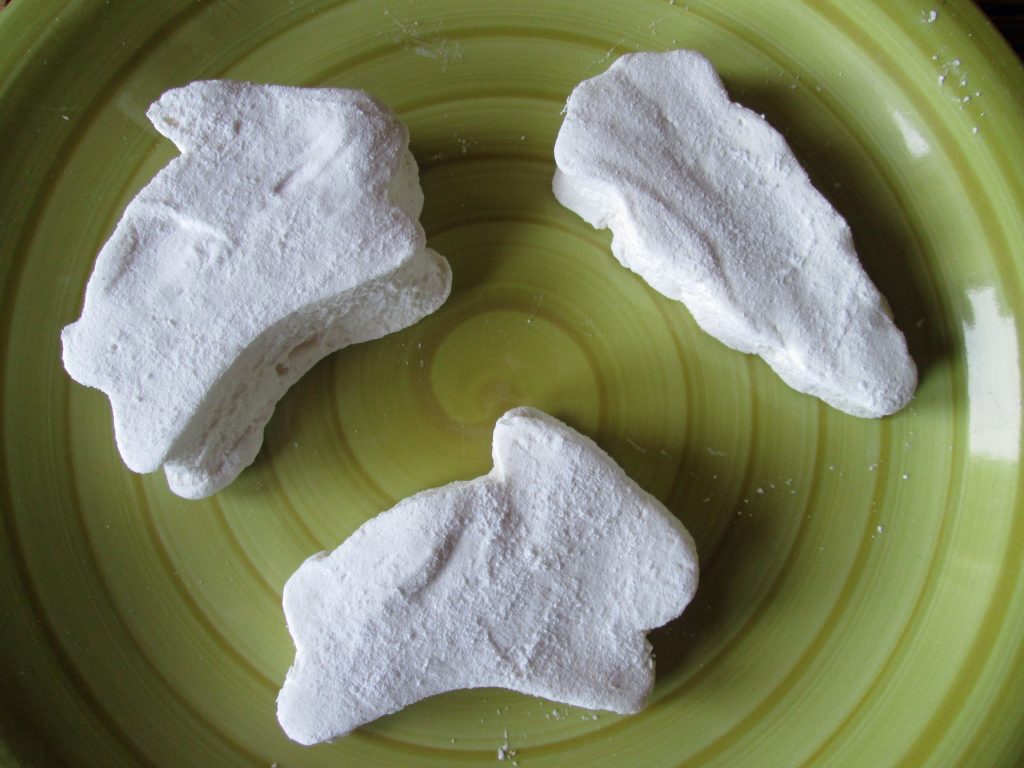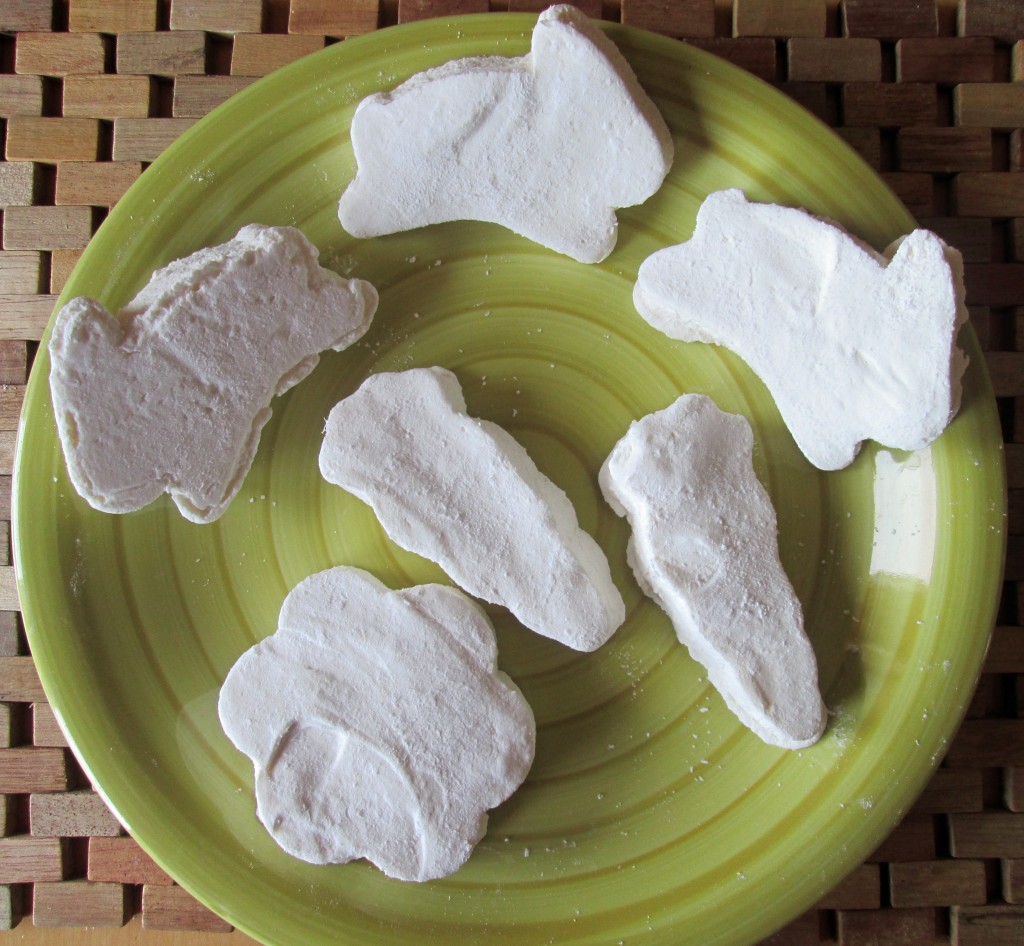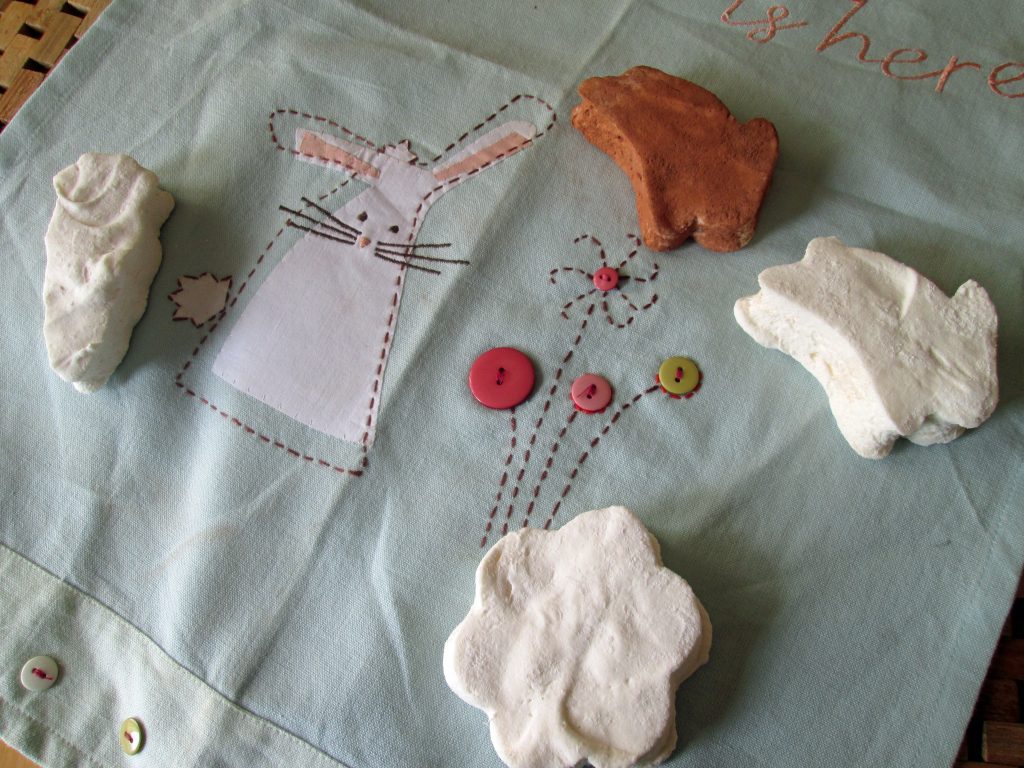 Save