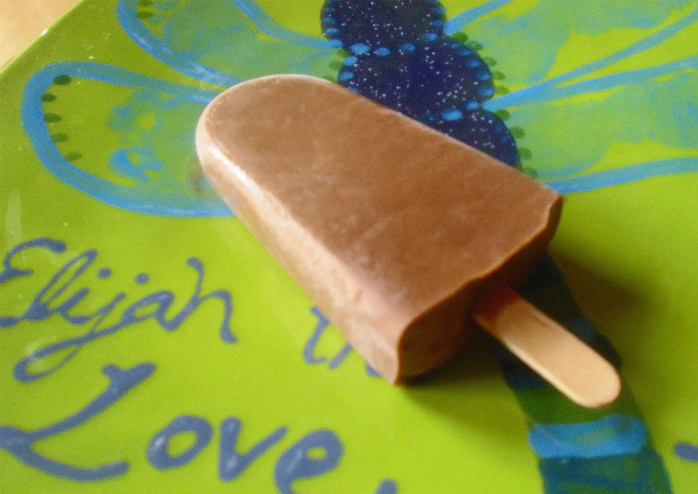 This recipe happened by accident.  I was trying to make Raw Cacao Mousse but I didn't soak the dates long enough and so they simply would not blend into the the rest of the mixture in my food processor.  They were also old dates that I was trying to salvage so they were no longer soft and gooey but rather hard.  The taste was yummy but the texture was gritty from the date skins.
So I decided to add milk to the mixture and make popsicles.  The result is this recipe that ended up being a hit with my son (unlike the gritty mousse!)
Enjoy!
Fudgsicle Recipe
GAP, Paleo, dairy-free, sugar-free and gluten-free
Servings: 4
Prep + Cook = 420 minutes
Ingredients:
1 avocado
1/2 cup raw cacao powder, carob powder or unsweetened cocoa powder
1/2 tablespoon vanilla extract
6 Medjool dates, pitted
2 tablespoons honey
1 1/2-2 cups non-dairy milk, or raw milk
Steps:
1.  Soak the dates in hot water for 30 minutes or until soft. Drain.
2.  In a blender, add all of the ingredients, starting with less milk to start.  Add more as needed.  It should be like pudding consistency.
3.  Pour the yummy chocolate mixture into popsicle molds and freeze for 5-7 hours, or until frozen solid.  Enjoy!
How to make Cacao Mousse:
If you want to make the mouse, simply double all the ingredients and delete the milk from the recipe.  I also use a food processor for the mousse instead of the blender.
Pudding?
You could also just eat the popsicle mixture like pudding instead of freezing it into pops.  So there are actually three recipes here – the fudgesicles, mousse and chocolate pudding.  Enjoy!
Save