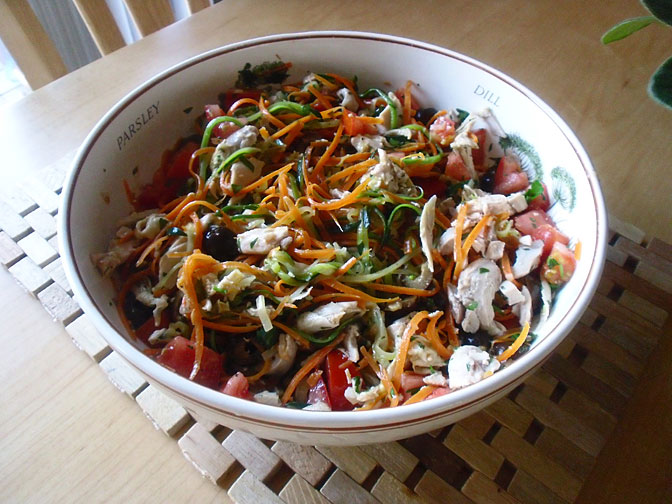 Once upon a time, it was a warm and sunny day in the middle of March in Maryland.  Ah, boy did it feel good after the long and cold winter we had experienced.  It gave us hope that spring was here and that the ridiculously cold winter had decided to finally give up its firm grip.  We opened the windows and let in the fresh air.  When dinner came, I looked in the fridge and remembered something I had been thinking about – gluten free pasta salad made out of zucchini noodles and anything else I might have on hand.  It turned into a zucchini AND carrot noodle salad because I only had one zucchini.  But this made it all the more colorful.  I added black olives, tomatoes and fresh parsley, some cooked chicken and a simple salad dressing.
Yes, spring was here and it felt wonderful.  Well, for a couple of days that is.  I am really trying not to be a grump about the fact that it is freezing outside (maybe not litterally, but it feels like it!)  But I am really not happy about it!
But I can at least share my recipe with you in case you already have some nice warm weather, or you simply want to have some hope that someday soon we will be enjoying pasta salads and other warm weather meals!
The great thing about this salad is that it is very versatile.  If you can't eat tomatoes, you can use veggies like cooked green beans, sugar snap peas, or cooked asparagus.
Recipe for:  Zucchini Pasta Chicken and Vegetable Salad (grain-free, rice-free, dairy-free, gluten-free, soy-free)
You will need a julianne peeler for this recipe to make long, thin noodles.  But you can also use a regular vegetable peeler to make wider noodles.
Ingredients:
1-2 zuccchinis
2-3 carrots
1 tomato – or other veggie of your choice, diced
1-2 cups olives – sliced or whole (make sure they are preservative-free.  I like the Santa Barbara Company olives)
1 lb chicken, cooked and chopped or shredded
1/4 cup fresh parsley or other fresh herb of your choice, chopped
Dressing:
1/3 cup olive oil
1 Tbsp apple cider vinegar
1/2 lemon, squeezed
1/2 tsp dried basil
1 tsp mustard
salt and pepper to taste
Steps:
1.  If you need to cook the chicken, place in a medium saucepan and cover with water.  Bring to a boil then reduce to a simmer.  Cook for 10-15 minutes, or until chicken is cooked through.  Drain and let cool.  Set aside.
2.  Using a julianne or vegetable peeler, make noodles out of the zucchinis and carrots.  (You can also just use zucchinis).  Rotate the vegetables as you peel them.  For the zucchini, peel until you reach the seeds.  Keep the zucchini cores for soups or other dishes.
3.  Steam the zucchini and carrot noodles for about 5 minutes or until tender.  Remove from heat and drain.
4.  Cut up the tomato and chop or shred the chicken with your fingers.
5.  Combine the noodles, chicken, tomatoes, olives, and parsley.
6.  Make the salad dressing by combining the dressing ingredients.  Pour over the salad.  Enjoy salad warm or chill for a few hours before serving.
I hope you enjoy this salad!  In the meantime, I am going to try to make the most of our never-ending winter!