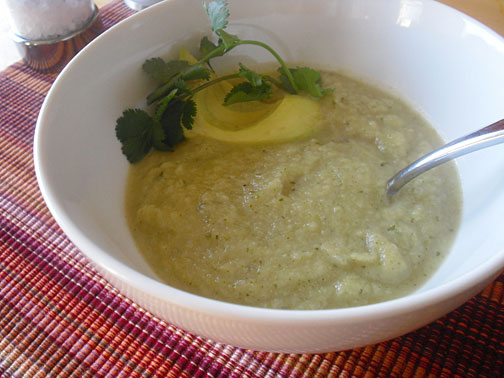 I've been on a bit of a cauliflower kick lately.  I never used to touch the stuff.  Now I love it.  And this past week (yes, during Christmas!) I've been "attempting" the Intro GAPS diet so I've been eating lots of soups.  I seem to have slipped off the wagon the past couple of days with going back to work, but I'm going to try to keep on it.  It takes a lot of planning, shopping, chopping and cooking!
Anyway, here is a soup that I really enjoy.  It tastes just like Broccoli Potato Soup to me but doesn't have any starch in it.  And it's great for the Intro diet or for anyone who just loves a nice bowl of healthy soup.
A secret ingredient is in the soup – beef bone marrow – and if this grosses you out, well, just ignore it.  But it is extremely healing for the bowels.  And you don't taste it at all, really!  From Gapsdiet.com about bone marrow:
"The gelatinous soft tissues around the bones and the bone marrow provide some of the best healing remedies for the gut lining and the immune system; your patient needs to consume them with every meal."
Here's the recipe:
Broccoli Cauliflower Soup (starch-free)
Ingredients:
1 onion, chopped
1-2 cloves garlic, crushed, optional
1/2 head cauliflower
2 small heads broccoli – I ended up with a 1 to 1 ratio between the cauliflower and broccoli, but you can do less cauliflower.
4 -5 cups homemade beef or chicken stock – how much depends upon your desired consistency – use less if you want a thick soup.
cooked bone marrow from 2 beef bones, optional (you would retrieve this from the bones after your homemade stock is cooked)
salt to taste – about 1 tsp
pepper to taste – about 1/2 tsp (not sure if this is actually okay on the Intro diet – I'm still learning)
1 Tbsp. dried parsley
Steps:
1.  In  a large soup pot, combine the stock, onions, garlic, cauliflower, broccoli and bone marrow.  Bring to a boil, reduce heat to a simmer, and let cook for 15 minutes, or until the veggies are cooked through.
2.  Add the salt, pepper and parsley.  Using a hand blender or regular blender, puree the soup until very smooth.  Taste, add any additional seasonings to taste.  Enjoy!  Super easy if you have homemade stock on hand.
By the way, the avocado tastes lovely with the soup.