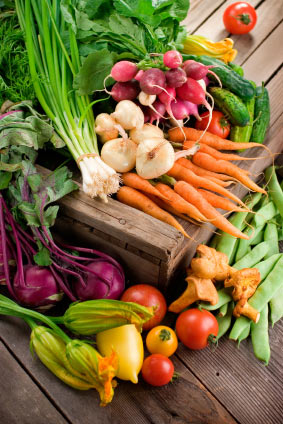 What did you eat this week?  I'd love to hear about your meals, and share mine with you!
This past week was one of those weeks where I decided pretty much a few hours before dinnertime to decide what to make, but everything turned out yummy (well, in my opinion at least!)
My GAPS Weekly Meal Un-Plan
(gluten-free, dairy, free, starch-free, sugar-free, soy-free, legume-free)
Dinners (leftovers for lunch):
Turkey Tacos with Cabbage wraps
Coconut Fried Chicken and Mashed Cauliflower
Beef Marinara with Zucchini Noodles
Salads:  hard boiled eggs or chicken, peas, shredded carrots,  pea shoots, garden tomatoes, cooked and cooled beets, etc.
Egg wraps with Sautéed Cabbage, Shredded Carrots and Onions
Chicken Legs with Barbecue sauce and Steamed Broccoli
Desserts:
Breakfast:
Blueberry Yogurt Smoothies – just yogurt, blueberries and bananas
Banana Pancakes – just bananas and eggs
Eggs…
Ferments, etc:
Soaked and Dehydrated nuts
Kombucha
Yogurt
Well, that's me!  I'm always looking for new ideas so please do share!