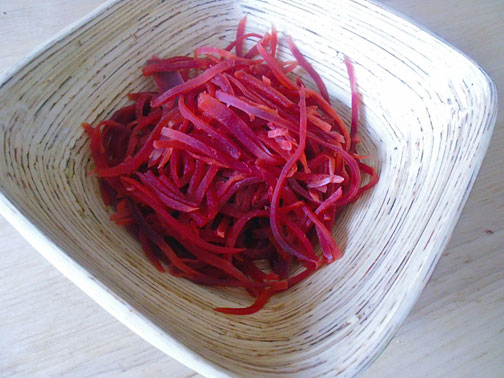 I believe that almost anything is possible with a few ingredients:
creativity and looking outside the box
a few helpful kitchen tools
amazing abundance of foods that the earth has given us
With these few ingredients, you can really come up with anything no matter how limited your diet is.  I really believe this.  Maybe it's because the more limited my diet has become, the more I have discovered just how many ways there are to make pancakes, tortillas, noodles and other common food items.
Yes, I know, they are not the "same."  But I tend to believe that different is good, no matter how crazy it sounds to make tortillas out of just eggs or noodles out of cabbage.
About helpful kitchen tools:
I've recently acquired some amazing peelers by Swissmar and they are so helpful, I highly recommend them.  My old peeler was simply not doing the job any longer and I was also looking for a peeler that makes vegetables into julienne strips.  I found this trio of peelers from Williams Sonoma for a pretty decent price and they are great!  They include one peeler for regular veggies, one with a serrated blade for delicate produce and one with a julienne blade.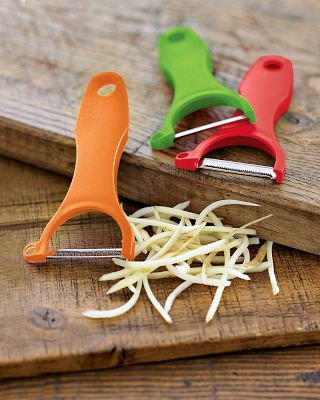 So I've been experimenting with the julienne peeler and have used it on carrots, zucchini and beets.  It is really very easy to use and makes great strips for pasta noodles.  Last night I made the beet noodles and they were very good.  Compared to the zucchini noodles, they didn't get as soggy and held their shape better.
As for peeling the beets, it was a bit more difficult than peeling vegetables that are long like zucchinis.  When I got down to the center of the beet, it became too difficult to keep peeling it so I put the two beet cores into the food processor with the grating devise.  I did this so that they wouldn't go to waste but the shreds were much shorter than the ones I got with with julienne peeler.
As far as cooking the noodles, if you're a raw foodie, you can just eat these raw.  I like mine a bit cooked so I put them in boiling water for about 6 minutes and they were nice and tender.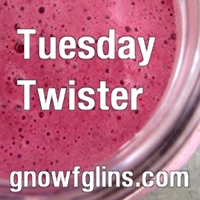 As far as quantity, I used two large beets and it made a good amount of pasta – I would say at least four servings.
So that's it!  I hope you enjoy this!
I am submitting this post to the Tuesday Twister Carnival at Gnowfglins.com.  I used to participate weekly in this carnival but it's been a while, mainly due to being busy with buying the house and other projects.  But I want to start getting back in the habit of contributing!  Thanks Wardeh for hosting!