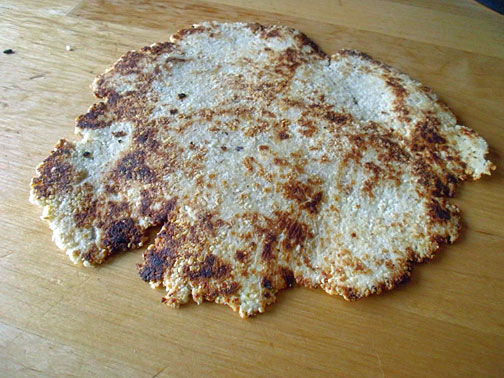 A while back I posted recipes for both gluten-free tortillas made with brown rice flour and grain-free tortillas made with almond flour.  I hadn't taken pictures of any of my tortillas though so I didn't have any to share.  I finally made a point of photographing my grain-free tortillas so that you can see what they look like.  I also took pictures during the different stages of prep and cooking again so that you can get the full picture!
Also, I am still working on trying to get these more flexible so that they can be used as wraps.  Right now I use them for tostadas (flat tacos).  If I try to fold them for a taco, they usually break and turn into sandwiches.  They are still very tasty, just different from regular tortillas.  I have also discovered that they are more flexible after you have stored them for a day or so in plastic or a container.
Here is the revised recipe:
Grain free Almond Flour Homemade Tortillas: (gluten-free, grain-free, sugar-free, yeast-free)
Servings:  6-8
Prep and cook time:  35-50 minutes
Ingredients:
3 cups blanched almond flour
1 tsp sea salt
1 Tbsp ground flax seeds
3 Tbsp boiling water
2 tsp honey
1 egg
Steps:
1.  Combine the flax and boiling water in a small bowl.  Let sit for 5 minutes.  Mix the flour and salt together in a separate medium bowl.  To the dry ingredients, add the egg, flax mixture and honey.  Combine mixtures until it forms a firm dough that isn't too sticky to handle.  If it is too sticky, add more flour until you can easily roll it into a ball.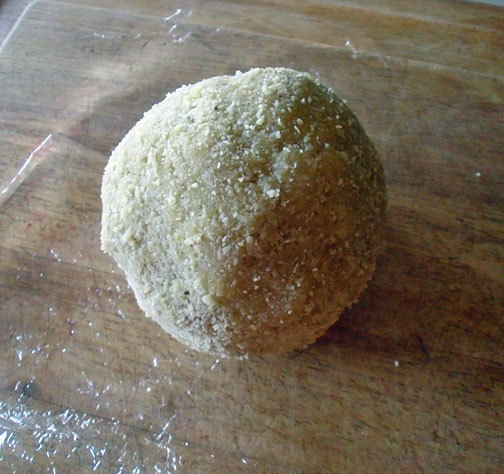 2.  Cut the ball into 8 pieces.  I cut it in half first and then cut each half into fourths.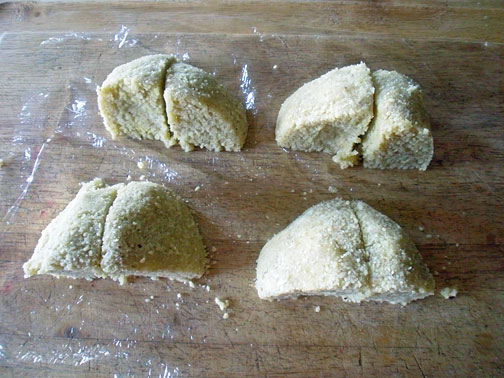 3.  Place a piece of plastic wrap on a counter or cutting board.  Take one piece of dough and roll it into a ball with your hand.  Place the piece of dough in the center of the plastic.  Place one more piece of plastic over the piece of dough.  Roll the dough very gently.  Roll it until it is as thin as you can get it without it falling apart.
Note:  Don't expect perfection – these are not going to be your ordinary completely round tortillas like you buy in the store.  Each one of these tortillas has a personality and uniqueness – they will have jagged edges, and some little holes here and there but that's okay!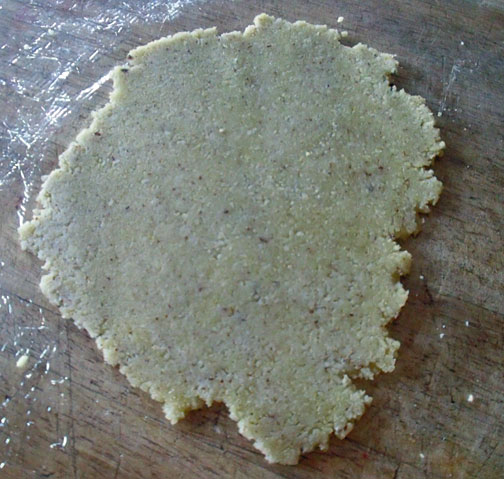 3.  Oil a cast iron skillet with olive oil and then heat skillet to medium heat. Heat it well before you add the first one.  (As you make the tortillas, you may need to lower the heat to low-medium so that they don't burn, but it depends upon your stove and what kind of skillet you're using).
Take off the plastic wrap on top of the tortilla.  When hot, gently put your non-dominant hand underneath the plastic wrap under the tortilla.  Flip the tortilla onto your dominant hand while you peel away the plastic wrap.  Then gently "plop" it into the skillet in the middle of the pan.   If there are folds, try to even them out, or just mush them down with a spatula.
4. Cook for about 1 minute on each side, or until they are golden brown. You will see the edges start to brown and the middle will start to bubble:
5. Flip and cook on the other side for another minute or less.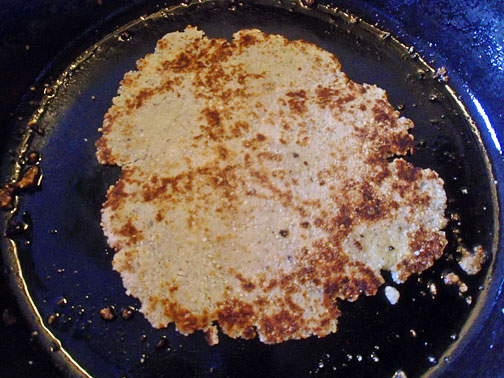 6.  Cook each one, one at a time.   You may not need to use oil every time (could use butter or coconut oil too), but add a little bit if the skillet becomes dry.  I usually roll one while another one is cooking.  It is a bit of  a dance when they only need to cook a minute per side, but it works out well this way.
Stack them up on a plate until you're ready to use them.  If you are making these ahead of time, you can freeze them once cooled in a freezer bag, or just keep them in the fridge in a Tupperware for a few days.  It actually works out better to make these on the weekend or sometime when you have extra time because they are a bit of work.
Enjoy!  Please let me know how you like these.  In the meantime, I'm going to keep experimenting to see if I can make them more flexible. I do have another recipe that is like a thick flour "Gyros" wrap but it is kind of thick and a little too "eggy" tasting for a regular tortilla.  But I will post that one soon too!