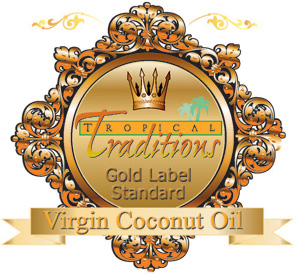 Last summer I was gifted a bottle of Tropical Traditions Gold Label Virgin Coconut oil along with the book, Virgin Coconut Oil by the company.  It has taken me this long to write a review of the coconut oil because of what I experienced when I started eating the oil on a regular basis.
At the time of receiving the oil and the book, I knew of coconut oil's nourishing and healing qualities.  I wrote a post about it in the fall of 2008 talking about the different qualities of coconut oil.  I even wrote:
"The principle fatty acid in coconut milk, lauric acid, is a medium-chain 12-carbon saturated fatty acid that has potent antiviral, antifungal, and antimicrobial properties."  Nourishing Traditions by Sally Fallon
However, I was also not eating coconut oil regularly enough to really benefit from its highly nourishing and healing properties.  But when I received the Tropical Traditions oil and read most of the book about its qualities, I decided to start eating it regularly.
The book warned to take things slow.  Because of its healing properties, the coconut oil can help to release toxins from the body.  However, if this happens to quickly, one can be subject to a "die off" effect or a "healing crisis," also known as a Herxheimer reaction.  This is when too many toxins are trying to leave the body but the body isn't able to do it quickly enough.  The result of this is people can often feel sick and achy, like they are getting a cold or a flu bug.  Or they can have old symptoms return for a day up to several months, depending on how much toxic build up there is in the system.
So I started taking a tsp or so of oil, but still ended up overdoing it somehow.  I woke up in a couple of days with what felt like an ear infection and my energy was very low.  I felt like I was getting sick, but it turns out I never really did get sick.  The feeling cleared within a day and I felt fine again.  I realized that it was my body's way of telling me to take things even slower so I did.  I am now up to eating a couple tablespoons a day with no problem but it took me some time to get there.
The other thing that started happening when I ate the oil on a daily basis is a tiny rash on my hand started to grow.  This rash had come and gone the past year or so, maybe longer, but had never really bothered me.  But when I ate the coconut oil, it grew and eventually spanned my entire palm on my left hand.  It eventually crept onto my fingers and at its worst, it was very itchy, dry and cracked.
A few months after starting the coconut oil, I eased myself into the full GAPS diet, eliminating grains, starches and refined sugars from my diet.  This too created some die-off in my body and the rash continued to persist.  I treated it with calendula ointment because although I had a history of eczema, I came to the conclusion that it was a way that the toxins were leaving my body due to eating the coconut oil and changing my diet.
Sometime in December, the rash started to improve dramatically where it was no longer itchy and cracked and new and healthy skin was beginning to grow.  It is still not 100% but at this point, it is only a tiny bit dry and red in one place. So it took about six months of eating the coconut regularly and changing my diet for it to finally clear!
There have been other amazing changes in my life due to eating coconut oil – you can read about them in My Healing Journey section.
I find this truly amazing and I am sure that it is due to Tropical Traditions traditional methods of harvesting and processing the coconuts to make cold-pressed virgin coconut oil.  You can read about the process that they use on their website, which is based on the traditional ways of harvesting coconuts that has been used for centuries.
I highly recommend their products!  If you haven't tried eating coconut oil regularly, I would recommend using their coconut oil because of its high levels of antioxidants found in lab analysis.
I personally use it for almost everything – I use it to saute food in my cast iron skillets.  I use it in place of butter in baking.  I make coconut candy out of it by freezing it with other ingredients like honey, peppermint extract and shredded coconut.  And I often eat it by the spoonful at the end of the day.  It becomes solid when it is cool enough and therefore kind of like eating almond butter by the spoonful, which I also enjoy.  I used to put it in oatmeal or hot cereal but no longer eat grains.  I know some people put it in smoothies or hot cocoa or other hot drinks.
I hope you have found this post inspiring you to eat coconut oil more regularly!
How do you use coconut oil?  I'd love to hear more ways to use it!