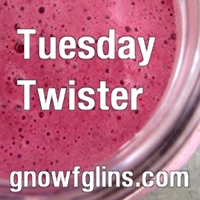 Notes:  I'm having some quirky problems with my website so I am using bullets to separate the paragraphs in this post.  I am also submitting this post as part of the Tuesday Twister Carnival at GNOWFGLINS.  Please visit Wardeh's site to see all the other wonderful weekly posts.
As promised, I am posting a recipe for gluten-free pizza crust.  However, this is a different recipe than the one that I mentioned in my review of premade pizza crusts.  The following recipe is for a tarte style gluten-free pizza crust that I adapted from a recipe in Nourishing Traditions, by Sally Fallon.  I have been slowly transitioning to more traditional methods of preparing and making baked goods, as suggested in her book.   The main step that is added in traditional methods of preparing baked goods is to soak the flour for 12-24 hours in yogurt, buttermilk, or water with lemon juice or apple cider vinegar if you can't eat dairy products.
This extra step (though it takes planning and time) makes baked goods much more digestible than if they are baked without soaking.  Through soaking flours, the process of lacto-fermentation begins, which is a natural process that creates healthy bacteria like the ones in yogurt and traditional sauerkraut.
I have to say I've been somewhat resistant to transitioning to this new "lifestyle" of soaking flours ahead of time.  I usually end up wanting to make something right before I'd like to eat it, which doesn't work so well for this process.
But after making my muffins, and then this pizza dough, I am becoming sold on this way of preparing baked goods.  And it is mostly due to the way these baked goods make me feel verses ones that aren't soaked first.
When I ate this pizza crust, I didn't get that "carbohydrate rush" that comes with most baked goods.  Instead, I felt nourished and fulfilled.   My blood sugar remained "stable" and it also felt more like a meal than regular pizza makes me feel.  I didn't have any digestive upsets from it at all, which I normally have even a little bit of after I eat non-soaked flours, even if they are gluten-free.  On the contrary, I felt like it was nourishing food for my body.
I will say here that this pizza dough has a lot of butter in it, 2 sticks to be exact.  Now, I believe that fat isn't necessarily bad.  I do believe that the wrong kinds of fats are quickly degrading our health.  However, organic butter from grass-fed cows (preferably) is actually very healthy for you!  On the other hand, hydrogenated oils such as the ones found in margarine are the ones that are creating great health problems.  This of course is really another subject, so for now, let's stick to the pizza.
Of course, if you're allergic to casein or can't eat butter, this may not be a great recipe for you.  I did consider trying it with palm shortening, but haven't got that far.  I would also like to try it without yogurt and use apple cider vinegar water instead for the dairy-free version.  I'll keep you updated on this.
On another note, don't be surprised if this doesn't taste like your normal pizza crust.  Since it's torte style, and has 2 sticks of butter in it, is has a very buttery, dense taste and texture, similar to pie crust, only thicker.
I actually didn't like it at first because it was quite different from the normal yeasted pizza crust.  But don't let this keep you from trying this.  After my first piece, it started to grow on me.  And within two days, the two pizzas were devoured by our family of three.
The other thing I loved about making this recipe is that it is a roll-able and knead-able gluten-free pizza dough recipe.  With most gluten-free pizza dough recipes, you end up with a wet, cake-like batter that needs to be spread with a spatula.  I personally love kneading bread and getting my hands a bit dirty and feeling like I am creating something with my hands, rather than a machine doing the work for me.  It also has a most amazing scent as you knead the dough.
Let's not leave out the fact that this is also a yeast-free pizza dough.  For those who are gluten-free and yeast-free but who can have a bit of dairy in the form of yogurt and butter, this may be a really great recipe for you.
As for the toppings, this is completely up to your imagination.  I stuck to the traditional pizza sauce with cheese for this one and I used almond cheese.  It didn't melt like I would have liked but it was still a good addition.  Other ideas might include pesto sauces in place of pizza sauce, vegetables like mushrooms, tomatoes, artichoke hearts, olives, or meat such as seasoned ground turkey, beef or lamb.
So without further ado,
Torte Style Gluten-free Pizza Crust
1 cup brown rice flour
1 cup millet flour
1 ½ cups tapioca flour
1 cup yogurt (I use whole goat yogurt because goat's milk is easier to digest than cow's)
2 sticks of butter (1/2 pound), softened at room temperature
2 tsp salt
1 Tbsp xanthan gum
Arrowroot powder to roll dough
This recipe makes 2, 10" pizza crusts
Steps:
1.  Cream the yogurt and butter together with a hand mixer.  Add the flours, xanthan gum and salt and continue to mix until well combined.  (I actually used my hands for the second part and it was very fun.  There is something about using your hands directly, especially when you're making bread.)  Cover with a towel and let sit at room temperature over night or 12-24 hours.
2.  Scrape dough out of the bowl and pat into a ball.  Cut into two pieces.  Flour a counter or large cutting board with arrowroot powder.  Form each half into a ball and then roll into two 10" rounds.  Transfer to an oiled pizza pan and then finish the edges to make the crust.  Prick crusts well with a fork.
3.  Prebake pizza crusts at 300 F for 30 minutes.  Add your toppings, then bake again at 350 for 30 minutes or until crust is baked through and the cheese melts.
I hope you enjoy this new gluten-free pizza crust.  Please let me know how it goes for you and how you like it!