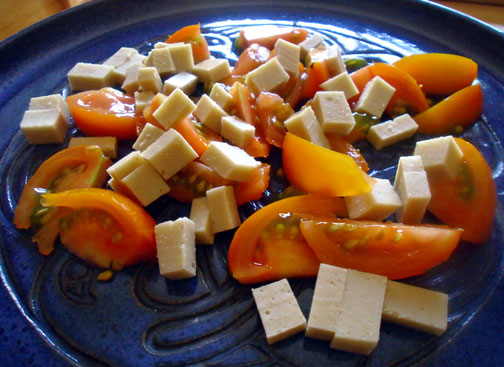 I feel like I am somewhat on a quest;  a quest to find food that anyone can eat, no matter what their food restrictions may include.  This is now my second attempt at a recipe for SLICE-ABLE and GRATE-ABLE, dairy-free, casein-free and soy-free cheese.  Unfortuanately it doesn't cover people with nut or cashew allergies, but hopefully many people can use and enjoy this recipe.
I actually like it better than my first attempt at slice-able, casein-free cheese.  The first one was a bit flimsy, though it did slice.  And the only way to get it to grate was to freeze it, which was time-consuming and a bit cold on the fingers!
I found this new recipe in The Real Food Daily Cookbook by Ann Gentry under "Cashew Cheddar Cheese."  I made some adjustments – such as replacing the soy milk with almond milk and canola oil with olive oil.  I also halved the recipe completely because it called for 2 ounces of agar agar.  At around $7 or so an ounce of this seaweed, I decided to just half the recipe to see if I even liked it before spending so much on the agar agar!
Because this recipe uses agar agar, it is suitable for vegetarians and vegans.  The previous recipe called for gelatin, which I'm not too fond of either.
The other great thing about this new recipe is that the cheese can be grated without freezing it!  See below: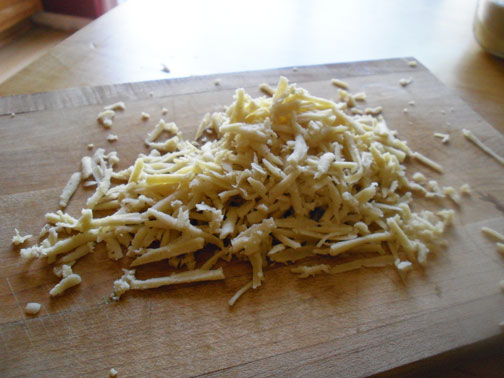 And yes, it can be melted after it hardens, or you can use it as a melted cheese when you first make it.
As for the flavor, I thought it had a nice flavor, however I may use a tad more garlic and onion powder next time and maybe a bit more nutritional yeast.
Here is the recipe:
Cashew Cheddar Cheese
Adapted from The Real Food Daily Cookbook by Ann Gentry
PREP TIME:  25 MINUTES * MAKES 16 SERVINGS
Ingredients:
2/3    cups cashew nuts
1/4    cup nutritional yeast
1        tsp onion powder
1        tsp salt
1/8   tsp white pepper
1/2    tsp garlic powder
1 3/4 plain and unsweetened almond milk
1 oz (about 2/3 cup) agar flakes
1/4   cup olive oil
1/8   cup soy-free miso (made from chickpea), or an additional 1/2 tsp salt and 3 Tbsp nutritional yeast
1 Tbsp lemon juice
Steps:
1. Finely grind the cashews in a food processor.  Add nutritional yeast, onion powder, salt, pepper, and garlic powder.  Pulse until spices are blended.
2.  Combine milk, agar and oil in a saucepan.  Bring to a simmer over high heat.  Decrease the heat to medium-low, cover and simmer, stirring occasionally, for 10 minutes, or until agar is dissolved.
3.  Pour the milk mixture into the food processor and blend into the cashews until very smooth and creamy.  Add the miso (or additional salt and nutritional yeast) and lemon juice.  Pour mixture into a loaf pan or another mold to cool and harden in fridge.  Use right away for melted cheese or let harden and use within an hour or so.
4.  Enjoy grated or sliced on pizza, tacos, burritos, salads, sandwiches, or anything else!
A note on portions: Even though I halved this recipe from the original, it still made plenty of cheese.  The cookbook says it will stay fresh for 4 days in the fridge, so unless you want to freeze it, or make a lot of pizzas, the above recipe works well for a family of 3-4.
Per Serving: 76 Calories; 7g Fat (75.2% calories from fat); 2g Protein; 3g Carbohydrate; 1g Dietary Fiber; 0mg Cholesterol; 216mg Sodium.
If you try this recipe, I'd love to hear what you think of it.  Or if you have any other ideas for dairy-free and casein-free cheese, let me know!  I am also going to work on a nut-free version so any ideas about this would be welcome!  I would love any comments so don't feel shy to say hi!