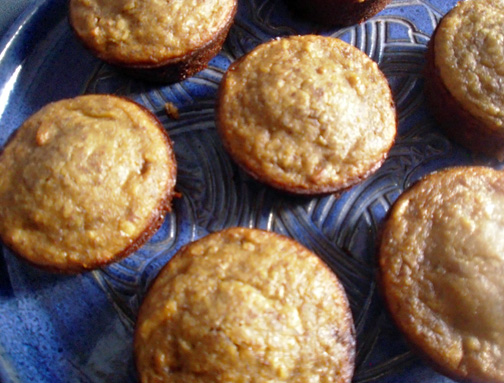 Did you you know that it used to be common practice to soak flour in cultured milk, buttermilk or cream to make baked goods such as pancakes, muffins and cakes?  For people who are allergic to dairy products, water with a little lemon juice or vinegar can be used.
Why soak the flour?
As many people know, wheat and other grains are one of the hardest things to digest.  This accounts for many of the sensitivities to wheat and grain products that people have today.  However, if the grains and flours are first soaked for 12-24 hours, this begins the "digestion process" well before it hits your stomach.
"Because they are acidic, buttermilk,cultured milk, yogurt and whey (as well as lemon juice and vinegar) activate the enzyme phytase, which works to break down phytic acid in the bran of grains.  Sour milk products also provide lactic acid and lactobacilli that help break down complex starches, irritating tannins and difficult-to-digest proteins.  Soaking increases vitamin content and makes all the nutrients in grains more available…"  Nourishing Traditions by Sally Fallon, pg. 476.
Before I went completely gluten-free in my diet, I experimented with soaking my flours for breads before I baked them.  For me, this wasn't enough and I found I needed to cut wheat and gluten out of my diet.  However, since going gluten-free and sometimes grain-free, I find that these baked goods are already much easier to digest even without soaking the flours first.
I am also a creature of habit and a spontaneous and impatient one at that.  Maybe I am like my toddler who wants what he wants, when he wants it.  I think we all have this quality in us at some point or another!  Needless to say, sometimes I just don't want to wait 12 hours to bake my bread!
However, I've been re-inspired to continue soaking my baked goods, primarily due to the inspiration I derive from Wardeh Harmon at GNOWFGLINS. Her nourishing and traditional methods of preparing foods has inspired a new level of baking in my house, and for this I am grateful.
I also know that there are many people who still can't eat wheat or gluten flours, even if they are first soaked.  And, many people continue to have problems with grains, even when they eat foods containing no gluten.  So, here is one of my first successful soaked, gluten-free muffin recipes.
And, I find that the extra soaking does make them more digestible!
This recipe is actually also grain-free, because it is made with quinoa flour.  However, I still soaked the flour because according to Nourishing Traditions, all non-gluten flours should be soaked, including quinoa, amaranth and buckwheat, which are all grain-free.
Please share what you know about the subject of soaking grain-free "grains" and other grains and flours in the comments section.  Thanks so much!
Apple Muffins:  Grain-Free, Dairy-free and Sugar-free
3  cups quinoa flour
1  cup goat or cow's yogurt and 1 cup water, combined, or 2 cups water and 2 Tbsp lemon juice  if allergic to dairy
1 1/3 cups applesauce
1/2  cup coconut oil
2/3 cup raw agave nectar
3 eggs
1 apple, grated
1/2 tsp vanilla
Dry ingredients:
1 tsp salt
2 tsp baking soda
1 tsp xanthan gum
3/4 cup dried, unsweetened dessicated coconut
1/2 cup flax meal
1 tsp cinnamon
1/2 cup raisins
1/2 cup walnuts or pecans
Steps:
1.  Combine the quinoa flour and yogurt water or lemon juice water, together in a medium mixing bow.  Mix well until well combined.  Cover with a towel and leave overnight for 12 hours or up to 24 hours.
2.  In a separate bowl, combine the coconut oil, agave or other sweetener and eggs together.  Add the grated apple and vanilla and stir.  Add this mixture to the soaked quinoa flour.  Stir until well blended.
3.  In another bowl, combine the remaining dry ingredients together – the salt, baking soda, xanthan gum, coconut, flax meal, cinnamon, raisins and nuts.  Stir until combined.  Add dry ingredients to the flour mixture.  Stir until well combined.
4.  I made these into muffins and they made about 24 with a little batter left over, which I made pancakes out of the next morning.  You can also make this into a loaf bread.  For the muffins, I baked them at 350 for 25 minutes in well oiled muffin tins.  They were very moist, not too sweet and very nourishing.  For a loaf, you would bake in a well oiled pan for at least 1 1/2 hours.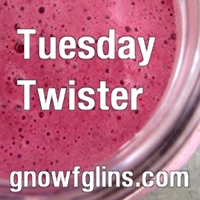 I am submitting this post as part of the Tuesday Twister Carnival at GNOWFGLINS.  There were other tasty things I made this week, which included a new and improved recipe for dairy-free and casein-free cheese that is grateable, as well as a wonderful quesadilla I made with dairy-free seed cheese, olives, caramelized onions and fresh herbs.  I will be doing a separate post very soon about the cheese!