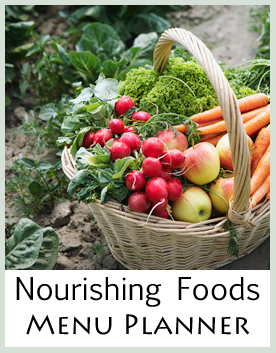 In addition to the Allergy Free Menu Planners, we offer a new and seasonal menu planner every week of the year!  These menus are available when you subscribe to the membership website.
Click here to read more about the membership website.

About the Nourishing Foods Menu Planners:
One new seasonal menu available each week of the year

Menu planners are e-mailed to you every Friday

Menus are based on the GAPS diet and work well for people on SCD or the Paleo diet

Allergen-friendly
Each week includes:

1 breakfast entree and 1 breakfast side
4 dinner entrée recipes each week
4 dinner side dish recipes each week
1 dessert recipe each week
Supplemental recipes as needed
An organized shopping list
Nutritional information is included in all recipes.
Family-friendly recipes!
Recipes focus on using fresh, seasonal produce and whole foods.

Plus:

Cooking tips
Complete list of substitutions you can use for replacing ingredients

New Features available on the member site:

Change any recipe with any recipe available on the membership database
The shopping list will update for you!

Add recipes!  Each weekly menu planner can include up 20 recipes in the PDF.

Access all previous menus and choose at your convenience
Don't have food allergies but just want to eat healthy food?
Many of our customers who use our menu planners don't have food allergies but are looking for a healthy menu with recipes that use fresh, whole and seasonal ingredients.
Grains, processed foods and sugars can bog the body down if eaten in excess.  By giving the body a break from foods using these ingredients, people report feeling lighter, healthier and many end up losing weight.

By subscribing to the Nourishing Foods Menu Planner, you will:
Save time – no more searching for new and interesting recipes to feed your family
Save money – reduce impulse buying because you have a shopping list for the whole week
Eat delicious food - no more "getting by" with frozen GF breads or tasteless frozen meals
Eat healthier – by eating homemade foods made from whole ingredients
Spend more quality time with you family - no more waiting for your dinner table at a restaurant
Eat a variety of foods - no more eating the same meals every week
Have less stress in your life - no more trying to figure out what to cook at the last minute
Have fewer shopping trips - no more running to the store for forgotten ingredients
Eat foods that work for your body - no more cheating on your diet because you can't find something to eat.
Feel Happy and Healthy! When people follow a diet that works for their body, they often feel better than they ever thought possible!
Ready to get started?  Here are some options for you.

Our planners put the "yum" back into your allergen-free meals every week.