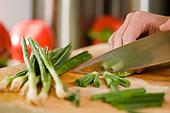 I recently received an email from someone asking me if it was possible to cook all of the items on my free sample menu planner in one day.  This is basically what I do when I cook for a client as a personal chef – so yes, it is possible to cook up to 5 meals in one day and then refrigerate or freeze them for later.  I gave her some tips but I thought that this is something that a lot of people wonder about but don't know how to implement.
If you are very busy during the week but have time over the weekend or another day during the week to cook several meals, this may be something that will help you eat healthy throughout the week without a lot of cooking during the work week.
I've been a personal chef in the Washington D.C. and Frederick, MD area for over three years so all of these tips are based on experience.  Let me know if you have other ideas – I'd love to hear from you.
Plan ahead:
This is imperative.  You need a plan of action in order to accomplish the amount of cooking that is needed to create 5 entrees and 5 side dishes in one day.  This is the main reason I make my menu planners – so that you don't have to do the planning!
You can see the different kinds of menu planners I offer for different diets here.
Find the recipes and print: If you want to do your own planning, you'll want to find about 4 or 5 recipes for main dishes that your family will enjoy.  Some entrees may have a built in side dish – like casseroles or one pot meals.  But if you want additional side dishes, find recipes for these as well and pair them with your entrees for the week.
If you can, print or photocopy the recipes.  If you have sheet protectors, you can use these to protect the recipes.  If you don't want to photocopy, just place a bookmark in your cookbook.
When looking for recipes, try to find entrees that can be made in 30 minutes or less and side dishes that can be made in 20 minutes or less.  In other words, don't pick a casserole dish with five different steps for one of your dishes on a cook day.