Want a sneak peak of the Substitutions for Allergy-Free Cooking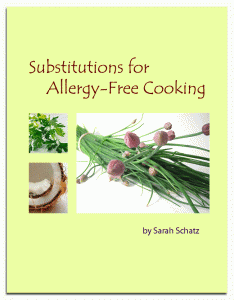 e-book?
You can read the first 11 pages of the book including the following dairy free substitutions and recipes:
Butter
Recipe for Butter Alternative
Butter Substitutions
Yogurt
Yogurt Substitutions
Cheese
Recipe for Vegan Cheese Sauce
More Dairy Free Cheese recipes
Cheese Substitutions
Nutritional Yeast Substitutions
Click here to download the first 11 pages
How to get the entire book for FREE (normally $15.95):

The entire Substitutions for Allergy-Free Cooking book is available on the membership site.  When you become a member, you gain access to the book through the member support area.
Click here to read more about the book