Probably the first question you had when you first learned you couldn't eat a certain food was, "What can I eat instead?"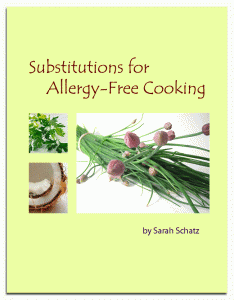 Through creating the Allergy Free Menu Planners, I soon discovered that everyone has a different list of "no" foods that they either need to avoid or simply don't like.
It was from this knowledge that I began offering substitution options for the recipes in the planners.
While the substitutions section has been widely used by the menu planner subscribers, I wanted to offer a reference book that would cover a wide range of substitutions for common and not so common foods that people need to eliminate from their diet.
So, the Substitutions for Allergy Free Cooking e-book was born!
You can buy the book for $15.95 and receive it instantly in your email:
Or, access all the information from the book for free when you become a member to the new menu planning site!  (You will be able to read the entire book online.)

About the e-book:
Click here to get a FREE sample of the Substitutions e-book.
65 pages of substitution suggestions for common and not so common food allergens.
Plus, how to substitute for common uses of foods.
1. Dairy products
Butter
Butter Replacements
Yogurt
Yogurt Replacements
Cheese
Cheese Replacements
Nutritional Yeast
Milk
Milk Replacements
Cream
Cream Replacements
Ice Cream
2. Wheat, Gluten and Grains
Wheat-free
Gluten-free
Resources for Gluten Free Products
Grain-free and starch free
Resources for nut and coconut flour recipes
Nut, grain and starch free
Grain-free but not starch or GAPS legal
Grain Replacements
3. Corn (as a grain and sweetener)
Corn derivatives
Corn Replacements
4. Eggs
Egg Replacers for Baking
Egg Free Breakfast Ideas
Other Uses for Eggs
5. Soy
Foods containing soy
Soy Replacements
6. Nuts, Peanuts and Coconut

Tree Nuts
Peanuts
Coconut
7. Meat and Fish
Beef
Poultry
Fish
Shellfish
8. Beans and legumes
9. Vegetables
Nightshade veggies
Starchy veggies
Squash and Sweet veggies
Onion Family
Cruciferous veggies
Leafy greens
Other veggies
Veggie Replacements
10. Fruit
11. Vinegar, Lemon and Lime
12. Herbs and spices
13. Oils
14. Chocolate
15. Sugar and Sweeteners
16. Salt
17. Yeast and other foods contributing to Candida overgrowth
Replacements for yeasty and moldy foods
18. Artificial colorings
19. MSG
Bonus Recipes:
Recipe for Butter Alternative
Recipe for Vegan Cheese Sauce
More Dairy Free Cheese recipes
2 Recipes for Coconut milk
Recipe for Raw Cacao Mousse
Recipe for Gluten-free mix
Recipe for corn and egg free baking powder
Recipe for Egg-Free and Soy-Free Mayo
Recipe for Soy-free Soy Sauce
Recipe for Vanilla Coconut Walnut Candy
1. Get a Free Preview of the Book:
Want a sneak peak of the Substitutions for Allergy-Free Cooking e-book?
You can read the first 11 pages of the book including the dairy free substitutions for butter, yogurt and cheese.
Click here to get a FREE sample of the Substitutions e-book.
2.  Buy the Book:

Buy the book for $15.95 here:
3.  Or, access all the information from the book for free when you become a member to the new menu planning site!  (You will be able to read the entire book online.)
Click below to order a membership: